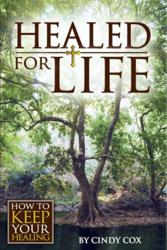 The message presented in Healed For Life is greatly needed by so very many people. It has the potential to save countless lives, and to bring glory to God! But the message must be shared!
Shelby Township, MI (PRWEB) November 08, 2011
Cindy Cox was miraculously healed of stage-four melanoma 9 years ago, with no medical treatment whatsoever. Since then, she has been sharing her story through her books and through her teaching ministry.
Healed For Life: How to Keep Your Healing, is her newly released book. This book resulted from a persistent, strong, and impossible-to-ignore prompting in Cindy's heart. Although many many people have received healing through her ministry, she has also seen people receive their amazing healing -- above and beyond their wildest expectations -- and then succumb to the disease once again, sometimes even unto death. Cindy knows from experience what it's like to be threatened by recurring cancer. Since Cindy was healed 9 years ago, she has had two experiences when it appeared that cancer was recurring. But she stood firmly on God's promises and clung to Him, and held on to her healing. In Healed For Life Cindy shares critical truths that lead to wholeness in body, soul, and spirit.
Cindy also knows and understands what it's like for people to have their own doubts about the Lord's healing power or those who have a basic belief in God but no personal relationship with Christ. The focal point of her book is not about religion; rather, the emphasis is on developing a personal relationship with God to obtain healing and all of His blessings for us.
Cindy is an ordained minister at Life Christian Church in Troy, Michigan, and a graduate of LCC's Life Bible Institute. She has led an Illness Recovery support group at Life Christian Church for the past 6 years. Speaking often around the country, her account is truly inspirational.
"I have felt like I am living under the cloud of 'cancer will come back, it's only a matter of time', since I had it in 2003. With the help of your book, I am claiming Jesus' healing power and am accepting His complete healing, believing now that cancer truly is over in my life! Thank you for being His messenger!" – Sue Kwant, Big Rapids, MI, Healed of Breast Cancer
"The simple and clear teachings of Jesus were presented in such a way that I could grasp and understand the concepts of the Lord's healing power like I never had before." – Penny Roby, Ann Arbor, MI, Healed of Stage-four Breast Cancer
"God is doing a great work through Cindy. She is an great inspiration to me and anyone who knows her or has read her books." – Geri McDowell, Lexington, KY, Healed of Neuroendocrine Cancer
"When I was first introduced to Cindy's big, healing God, I was skeptical, but her practical, step-by-step presentation of the Word of God clearly revealed that healing IS God's will for me (and I received it!). I love how "what works" to heal your body translates to walking in wholeness in every area of my life! As I read Cindy's books and dug into God's Word, I found something even better than physical healing … I found Jesus for myself and have the most intimate, personal friendship going on with Him: priceless!!!" – Angela Jungwirth, Chicago, IL, Healed of migraine headaches; the result of a brain tumor
For more information, please visit our website http://www.ablessedjourney.com
Contact Information
Kent Cox
info(at)ablessedjourney(dot)com
Paperback: 144 pages
Publisher: Christian Illness Support, LLC
ISBN 9781936750177
Paperback list price: $10.99
Book available at ABlessedJourney.com and Amazon
Soon to be available in Kindle and other e-book formats.
Links:
Facebook
Twitter
I-tunes podcasts
###