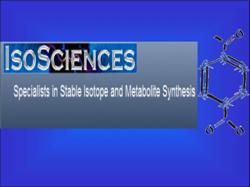 King of Prussia, PA (PRWEB) November 22, 2011
IsoSciences, LLC, makers of stable labeled isotopes has devised a simple 'solution' to the problem, difficulties, and waste associated with attempting to transfer one milligram of solid stable labeled material from a tiny vial that might cost as much as $1000/milligram for these small quantities of stable labeled isotopes used in the pharmaceutical and blood measurement industries.
The simple answer is pre-made solutions of exact concentration that can then be diluted with little or no waste and uncertainty. The product is marketed as CertiMass™ (trademarked) and is available for all catalog items upon request, with many catalog items available for same day shipping. Typical concentrations are in the 100 micrograms per milliliter range, with a defined accuracy of typically (+/-) 1.0%. This is in the perfect range for dilution into standard preparations for spiking as internal standards in most common methodologies of metabolic measurements.
Since hydrogen-deuterium exchange (for deuterated compounds) is a difficult issue, particularly with hormone measurements, most compounds are available as both deuterium or carbon-13 motifs. The carbon-13 variety resolves any and all issues with hydrogen-deuterium exchange which is a problem that is characterized by large and unpredictable shifts in absolute and relative response. There is also a conspicuous presence of every measurement appearing to be on the high side (seemingly inexplicable high results seen across entire sample sets). This problem has plagued blood measurements for decades, but is resolved by IsoSciences' unique chemistry for making stable labeled compounds either with carbon-13 or with deuterium where the deuterium is in non-exchangeable positions.
IsoSciences also specializes in custom synthesis of stable isotope labeled compounds. You can see IsoSciences LLC at http://www.isosciences.com and orders can be shipped to anywhere in the world.
###