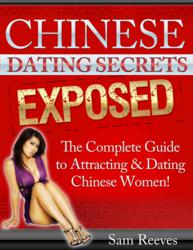 I just wish I had read this before, it would have saved me so much trouble!
Beijing, China (PRWEB) November 01, 2011
Dating or marrying a Chinese Bride? Well, make sure to read this first. Chinese culture has existed for four to five thousand years, and so it's pretty complex; it's also heavily influenced by Confucianism. This has affected almost every aspect of Chinese culture, including dating and marriage. This is why Sam Reeves at http://ChineseDatingSecrets.com has just re-released his dating and marriage guide, for men wanting to understand Chinese women and Chinese marriage expectations.
According to Sam Reeves, once you really understand Chinese culture, and the expectation of Chinese women, a person is then, and only then, in a position to make a valid choice of Chinese bride. Yet, even that being the case, guys still regularly contact him with numerous question in relation to their Chinese wife or girlfriend. Many, in retrospect, wished their decision had been different.
Sam Reeves has lived and worked in China's mainland for over eight years as a manager for a multinational Chinese company, and also dated a broad cross-section of Chinese women (so that's what he was doing in his spare time) and also analyzed numerous other western guys' experiences with Chinese women; Sam was asked if it was really possible to find the right Chinese bride or girlfriend, and he gave this intriguing response:
"All I can say is that after compiling my dating experiences and the dating experience of other western males with Chinese women, not to mention those married to them, I noticed that their seemed to be a real correlation with certain behavioral patterns in Chinese women which were culturally based; and once you knew what they were, you could then know their character and possible motivations for marriage. It is simply that Chinese culture is so distinct from most native English speaking cultures. This is what leads many men to make the wrong choice."
So what's a guy to do if he's really attracted to a Chinese girl? Sam revealed one of his hard-won secrets when dating Chinese girls:
"If someone asked me one thing a guy can do to let a Chinese girl feel he's worth considering as a partner, I'd say this one action is a great one: simply put some food of your own onto her plate or in her bowl when dining together. The sharing of food in Chinese culture has strong connotations of love, responsibility and family. This one act can have a really strong effect that goes really deep."
Dating Chinese girls or marrying Chinese women can be notoriously difficult due to culture-clash on many occasions, as any online search will testify; with the popularity of men marrying Chinese brides these days, there is a huge gap in cultural understanding related to this subject.
Sam Reeves says it needn't be so, and mentions an example of one situation many western guys have misunderstood:
"I outlined this in my book 'Chinese Dating Secrets Exposed' (see: http://ChineseDatingSecrets.com). Basically, if a Chinese girl tells you directly she wants to be a housewife, then she really means it. Meaning, she is telling you she wants to be a stay out home housewife, forever!"
This is perfectly understood by Chinese males. But many western males have married a Chinese girl who has said this to them, thinking afterwards she would change, and perhaps want to pursue a career, or even just find a part-time job. But no, she won't, because in her opinion she already stated her desire and expectation of married life; and by marrying her, the suitor has agreed to it. At least, from a Chinese cultural point of view he has, no matter he understood that or not at the time."
It's not surprising there is so much confusion about Chinese women, when mainland China has remained closed to the outside world until the late nineteen-seventies; even within the country, western ideas are still not so accepted as they are in other Asian countries, such as Thailand or Japan. It's also no wonder there are quite a few horror stories, and some difficulties when trying to find the right Chinese bride.
Sam noted, "I've had guys from all walks of life and ages contact me; the thing is, many feel a bit embarrassed by this, but actually if you really comprehend Chinese culture, it's totally understandable; in fact it's simply a cultural issue. Chinese culture can be hugely confusing to non-Chinese."
It's unlikely that this confusion will stop anytime soon, so it's just as well Sam has written the book on the subject. Check out his '7 secrets every man should know before dating or marrying Chinese brides' at http://ChineseDatingSecrets.com.
Be sure to also check out his book 'Chinese Dating Secrets Exposed', as it's proving to be quite a hit; as one reader said:"I just wish I had read this before, it would have saved me so much trouble!"
###