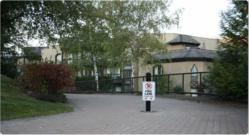 Emergency vehicles need quick access to areas normally protected by bollards.
Vancouver, BC (PRWEB) November 18, 2011
Mounting hardware improvements will make removable and retractable bollards from Reliance Foundry safer and easier to use.Removable and retractable bollards need to be strong, yet open areas up when needed.
Reliance is proud to introduce the bollard product lines 7900/8900 (removable) and 8400 (retractable). Around public and commercial properties, diverting traffic, allowing vehicle access or identifying roadway definition needs to be clearly communicated to drivers. When an emergency vehicle, like fire or ambulance, needs quick access to a facility, bollards that normally keep traffic out need to be removed quickly.
The series 7900/8900 and the series 8400 bollard product lines are quickly becoming critical components for designers who must take into consideration perimeter definition changes or fast-changing vehicular or pedestrian access areas.
Series 7900/8900 removable bollards provide excellent visual safety and deterrence when in place. They are made of carbon steel (7900) and stainless steel (8900) which make them very strong, to discourage vehicles from ramming. Yet, they are completely removable with interchangeable accessories. This makes them ideal for areas where the configuration of bollards needs to be occasionally changed.
Retractable bollards, like the 8400 products, lower completely into the ground, providing a flush surface, while also providing security and safety when in their upright position.
If needed, all of Reliance's bollards can include reflective strips, making them easier to spot at night, reducing accidental damage occurrence. Bollard reflective strips come in white or yellow and can be single or double striped for both removable and retractable models.
The biggest improvement is in the mounting hardware. Reliance Foundry has recently improved the mounting hardware for removable bollards, which are available in stainless or galvanized steel. All products come with the necessary hardware and installation instructions, ready for your contractor to install. The new mounting option improvements will increase the strength and ease of removal or retraction for these bollards.
###