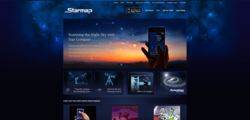 The Starmap apps are the only planetarium mobile phone apps that can be used by a casual sky gazer or a professional astronomer.
Paris, France (PRWEB) November 01, 2011
Starmap, the most expansive and professional planetarium mobile phone application available, has announced a new promotional campaign that includes a redesigned website and a series of animated and live action videos. The campaign, called "Starmap: The Universe Just Got Smaller" intends to expand its already massive user base by educating the public, explaining the apps through engaging videos, and showcasing why Starmap is still the best and most downloaded planetarium app in iTunes.
"Starmap is still the best planetarium app available on the market today," said Frederic Descamps, CEO of Starmap. "We've had a lot of success since we launched the Starmap app in 2008. This campaign is simply an effort to boost the Starmap user base even more, and reward the longtime users of the app."
The new website is set to go live on October 10, 2011. Starmap will release a series of HD live action and animated videos throughout the end of year. Frederic believes that the videos and redesigned website will further enhance the usability and incredible features of Starmap apps.
"The Starmap apps have such an expansive platform yet they are so easy to use," said Descamps. "They are the only planetarium mobile phone apps that can be used by a casual sky gazer or a professional astronomer."
The new promotional campaign also intends to show how Starmap is a far better tool than any of its competitors, which is why it has won several awards and been an iTunes "Featured" app multiple times. Starmap has been so successful for Descamps, that he has turned this mobile application suite into a viable and profitable business. To celebrate the campaign, Descamps is also offering all Starmap applications 50% off the original price for a limited time only.
Descamps is a PhD electronics/physics engineer, working in the field of scientific instrumentation. He developed the Starmap app on his own in a mere four months in his spare time. He has been an astronomer since the age of 12, and naturally gravitated towards building an app that would aid him in his profession and his hobby.
"Starmap was somehow going back to my roots," said Descamps.
About:
Founded in 2008, Starmap mobile application is the first handheld interactive planetarium app that lets you view the galaxy with realistic maps and detailed factual information. The original astronomy app, Starmap was featured on the home page of iTunes the first day iTunes was opened. Starmap, Starmap Pro, and Spacemap have all been a featured app on iTunes multiple times. The iPhone 3GS and 4's compass lets you point your device in any direction, and Starmap will pinpoint the exact portion of the sky like a virtual telescope. Hold the device in your line of vision and discover the map smoothly scanning the sky as you move. Use the touchscreen to zoom in or out, tap stars, planets and other objects in the sky for detailed specifications.
Starmap currently offers four different applications: Starmap Standard, Starmap Pro, Starmap HD, and Spacemap. These highly successful apps have been praised by a number of publications and review sites including iLounge.com and Sky and Telescope magazine. The Starmap apps are available on the iPhone, iPhone Touch, and Starmap HD and Spacemap are available on the iPad. For more information, please visit Starmap or download the Starmap app from iTunes.
###