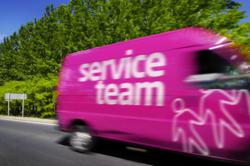 "Serviceteam is an expanding domestic and commerical services company and has seen continued success thanks to the growing demand for our services in London and beyond."
London, UK (PRWEB UK) 1 November 2011
With a move to the new larger London office in Grays Inn Road in September and a 40% expansion of the workforce across its customer and field service teams, Serviceteam is emerging as a London leader in its ability to provide the full range of domestic and commercial services required for the running, repair and alteration of the home or business premises.
In 2011, Serviceteam created nine full-time positions in its customer service team and increased the number of highly qualified trade experts to 90, bringing its total workforce to over 100. The company's recruitment drive comes following recent successful sales growth, which has seen Serviceteam achieve a 20% increase in turnover when compared to the same period in 2010.
The company is currently handling 120 jobs per week, with the highest volume of job requests coming from gas heating services, Electrical Services and landscaping and gardening services. Growing numbers of requests are being received for plumbers, electricians, gas engineers, gardeners and painters in London, the Home Counties and the South East.
"Serviceteam is an expanding company and has seen continued success thanks to the growing demand for our home services in London and beyond," said Serviceteam's Steve Macrie. "This growth signaled the recent move to our new premises, which have been completely renovated. We are expecting to grow further in 2012 and will be continuing to add more talent to the business. The infamous phrase in the building industry may be 'time for tea', but it's now 'time for Serviceteam'.
Established in 2009, Serviceteam are the complete home and business maintenance company offering highly experienced professional tradespeople for every job. Serviceteam provide plumbers, drainage engineers, gas engineers, electricians, locksmiths, gardeners, landscapers, painters, decorators, IT and computer repair engineers, satellite engineers, aerial engineers, audio visual engineers, home security engineers and carpet fitters.
# # #