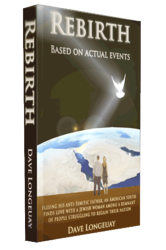 "Rebirth is a compelling novel which manages to perform the task of being very entertaining and informative. The depth of characters allow the reader to experience the struggles of Israel's birth, both personal and political."
—Rabbi Eric Tokajer
Brea, Calif. (PRWEB) November 01, 2011
While the history of Israel and the Jewish population has been mired by countless stories of persecution and accusations, "Rebirth" (ISBN 0983905800) by Dave Longeuay uniquely leads readers into the actual past events that assisted in shifting the Middle East into the volatile state it's in today.
"Rebirth" draws readers into 1948, into a journey of prophecies, espionage and anti-Semitism. The underlying message, says Longeuay, demonstrates how God ultimately kept his word by fulfilling his promise to the letter in 1948, as stated in Amos 9:14-15, when Israel was reestablished as a nation with a majority UN vote of 33 to 13.
The process to reestablish the fallen nation of 2000 years had a seemingly impossible stigma attached to it. While the Holocaust was over by 1945, Hitler's worldwide propaganda campaign had taken its toll. Other governing authorities, says Longeuay, were also documented in joining the persecution and hindering Jews in their pursuit to claim their "Promised Land" during and after WWII: namely the British government who had an "oil-rich" relationship with neighboring Arab states, making their bias against Jews political. "Rebirth" dramatizes events that show the human spirit triumphing over impossible odds; a key ingredient which led the state of Israel to become a mighty superpower in the Middle East. Readers will experience the nation's humble beginnings and witness how Jews and Holocaust survivors established a state with five Arab nations attacking on all sides, overcoming an uneven ratio of at least 60:1 in troops, supplies and munitions.
Longeuay classifies his book as a work of historical fiction in the traditions of "Pearl Harbor" and "Schindler's List". In order to confirm facts, he established a unique correspondence with author Zipporah Porath, an American-Jewish student who volunteered in the Jewish paramilitary in 1947, and who witnessed Israeli independence in 1948. Longeuay consulted with Zipporah while writing some of the more intense scenes, based on actual events, to ensure authenticity in "Rebirth."
Longeuay feels the dramatic and suspenseful story will appeal to readers interested in history, prophecy and an underdog rising to triumph over its foes— a modern drama similar to "David vs. Goliath." "Rebirth," also weaves a story around the resiliency and determination Jews needed to recreate their original customs, language and land cultivations after they had ceased more than 2000 years ago.
###