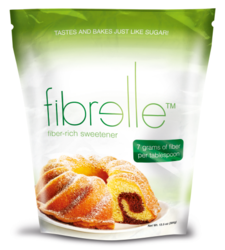 fibrelle provides a healthy yet tasty alternative for persons with diabetes
Ridgefield, NJ (PRWEB) November 18, 2011
Most baked goods require a high amount of sugar for proper taste and texture that is a great concern for persons with diabetes concerning their blood glucose management. Diabetics often consider using no calorie sweeteners instead of sugar assuming that the final baked goods will have a lower caloric value and will not raise their blood glucose levels as quickly as their full sugar counterparts.
However as explained in detail by Susan Drake, MS, RD, the Nutrition Science Adviser for Cardelle LLC in the attached video, when used to replace sugar in baked goods, most no calorie sweeteners may cause an increase in the glycemic index, fat and caloric values. Such drawbacks are successfully addressed by the new Fibrelle fiber-rich sweetener for baking recently launched in the US market, which is a weight-by-weight sugar replacer supplying a substantial amount of fiber along with excellent taste and texture thus providing an excellent alternative for persons with diabetes.
Why Common No Calorie Sweeteners Increase Glycemic Index, Fat & Calories?
Most baked goods are composed of mainly sugar, flour and fat. Common bake-able no calorie sweeteners replace sugar on a cup-by-cup basis but they are much lighter than sugar. The remaining bulk of sugar missing from the recipe is mostly compensated by an increase in the flour and fat content. However white flour has a much higher glycemic index value and fat has a much higher caloric value than sugar so the final baked goods made with common no calorie sweeteners such as Splenda® No Calorie Sweetener, Granulated will have elevated levels of flour and fat that causes a corresponding increase in their glycemic index and caloric value.
How Fibrelle Fiber-Rich Sweetener For Baking Decrease Glycemic Index & Calories?
Unlike other no calorie sweeteners, Fibrelle fiber-rich sweetener for baking is a weight-by-weight sugar replacer that is used in the same amount like sugar in recipes, therefore it does not increase the fat or flour content of the final baked goods. Additionally Fibrelle has a much lower glycemic index value than sugar and a much lower caloric value than fat so it will significantly reduce the glycemic index and the caloric values of final baked goods.
For example a typical 30 gram serving of cookies made with 40% sugar, 35% flour and 25% fat will have a glycemic index value of 70 and will provide 158 calories and only 0.3 grams of fiber.
When sugar is replaced with a no calorie sweetener such as Splenda® No Calorie Sweetener, Granulated, the ingredient composition will change to 5% Splenda®, 55% flour and 40% fat whereas the glycemic index value will increase to 77, energy content to 180 calories and the cookies will provide only 0.5 gram of fiber contributed by the flour.
Cookies made with Fibrelle fiber-rich sweetener for baking, will contain 40% Fibrelle, 35% flour and 25% fat and will have a reduced glycemic index value of 43 and a reduced energy value of 125 calories while providing a significant 6.8 grams of fiber per 30 gram serving.
In addition to providing significant health benefits, Fibrelle fiber-rich sweetener for baking can be used just like sugar in all baking and cooking applications and will contribute to taste, texture, volume, crunchiness and browning.
Diabetes requires constant monitoring and a significant emphasis on healthy food choices. To maintain normal blood glucose levels, it is recommended for persons with diabetes to prefer foods with lower glycemic index values, increase fiber consumption, reduce saturated fat and energy intake to avoid complications and reduce their risk of cardiovascular disease and stroke.
In that respect Fibrelle fiber-rich sweetener for baking may provide a very healthy yet tasty alternative for diabetics who would like to replace sugar in their favorite sweets.
Splenda® is a registered trademark of McNeil Nutritionals.
###