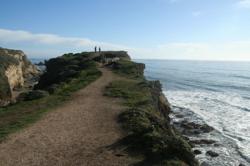 Open Studios is a popular way to see great art in a beautiful setting
Point Reyes Station, CA (PRWEB) November 15, 2011
The Point Reyes Weekend Blog, http://pointreyesweekend.com/, is pointing people to an unexpected post Thanksgiving meal destination: Point Reyes. Blog creator, You Mon Tsang, says, "Thanksgiving may be a favorite American holiday, but after a day of eating in with your family, you are probably going to need to get out of the house, get some space between you and your in-laws, stretch your legs and digest the turkey."
Tsang says for those in the San Francisco Bay Area, the Point Reyes Peninsula is a great place for a Thanksgiving weekend day trip.
The blog post suggests:

Hike out to see the Tule Elk; if lucky, visitors might catch the end of the rutting season.
Many artists take residence in this beautiful area and many open their studios over this weekend. Visit http://pointreyesart.com for the schedule.
The coho salmon spawning season gets started around this time. Please check the Spawnusa.org site for the latest details.
And, of course, there are the endless beaches, hiking trails and great local food at Point Reyes Station.
So make those leftover turkey, stuffing, cranberry sandwiches and pack everyone in the car and head out to Point Reyes. The Point Reyes Weekend Blog says it's a trip to remember for a lifetime.
###