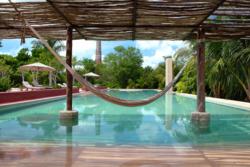 These chic hotels beg you to trade coats for caftans
New York, NY (PRWEB) November 07, 2011
Mr & Mrs Smith, the globally trusted boutique hotel collection and booking service, has scoured coastlines and dipped toes in crystal-clear waters in search of the world's coolest – well, warmest – winter getaways. Bliss out in Belize, dance samba in Brazil, or chill Caribbean style: these chic hotels beg you to trade coats for caftans and make a break for a Mr & Mrs Smith hotel this winter...
Hacienda San Jose: Yucatán, Mexico
One of the Yucatán Peninsula's best-kept secrets, this gorgeous garden estate is tucked away in verdant jungle. 15 thatched casitas set apart from the main hacienda boast sexy private plunge pools for midnight skinny-dipping and hanging beds that rock you gently to sleep. Double rooms from USD $230 plus tax.
Jade Mountain: St Lucia, Caribbean
Architecturally astonishing and blessed with breath-snatching views of the Caribbean Sea, this hilltop hotel is a curvy web of zigzagging stone walkways, sculpture-topped stone pillars and cascading koi pools. Every suite is completely open to the mind-blowing Piton panorama and most boast private infinity pools from where to admire it from, the ultimate honeymooner's hideaway. Double rooms from USD $950 plus tax.
Cayo Espanto: San Pedro, Belize
Three miles out to sea from the coastal city of San Pedro, these private beach houses offer the kind of peace and quiet you only find in the most exclusive island hideaway. Six tastefully decorated wooden villas are dotted among the tiny island's palm trees, with private plunge pools, hammocks, and a dedicated 'houseman' on hand to ensure that you're treated to whatever you want, whenever you want it. Double rooms from USD $1,295 plus tax.
La Suite: Rio de Janeiro, Brazil
Summer in Rio is the best time to visit this sexy beach city, especially if you immerse yourself in the world-famous Carnival in February. Located in Joàtinga, the Beverly Hills of Rio, this intimate cliff-side retreat has all the boutique-hotel design requisites with stunning ocean views. Two outdoor pools, tropical gardens and a private beach within walking distance. Swoon. Double rooms from USD $500 plus tax.
Estancia Vik: Punta del Este, Uruguay
Just a few minutes from the happening surf town of Punta del Este, and set on a plateau of plains and polo fields stretching out to the sea, this wonder ranch is the all-white, art-adorned dream home of a half-Norwegian, half-Uruguayan billionaire with a taste for isolation, contemporary design, and char-grilled meat. Double rooms from USD $410 plus tax.
Home Hotel: Buenos Aires, Argentina
With its simple ivy-clad structure in residential Buenos Aires, there is truly no place like an eco-design dream of a boutique hotel. An outdoor passageway leads you to the restaurant overlooking the gorgeous grounds and each room is fitted with vintage floral wallpapers and retro Scandinavian furniture. Double rooms from USD $145 plus tax.
Cocoa Island: Maldives, Indian Ocean
Resembling a collection of Keralan boathouses lined across a dock, these individual over-water villas have soothing white-on-white interiors, teak flooring to create an ambience of laid-back romance. The scuba diving here is terrific, and after an afternoon of reef watching guests can soothe away any aches and pains in the world-class Como Shambhala spa. Double rooms from USD $750 plus tax.
Frégate Island Private: Seychelles, Indian Ocean
A mere four degrees south of the Equator, this tiny lump of granite seemingly floating in the Indian Ocean is a sensitively developed, verdant paradise with traditional-style villas made from native mahogany and topped with thatched roofs. Frégate Island Private is the entire destination in itself, so absolutely everything is taken care of – all you have to do is turn up and flop out. Double rooms from USD $3,695 plus tax.
Azura: Benguerra Island, Mozambique
Desert-island digs miles from the mainland, this castaway fantasy is a remote eco-retreat of luxury thatched villas on the sunny shores of Benguerra Island. Join in with island life, and help out with one of the many conservation projects, or just sit by the clear blue lagoon and watch the tide roll in and out. Double rooms from USD $1,392 plus tax.
Eagles Nest: Bay of Islands, New Zealand
Modern and magical, this private peninsula overlooks New Zealand's Bay of Islands. Five contemporary, individually designed villas comprise this North Island boutique retreat. Encompassing 75 acres of sub-tropical native bush with secluded beaches and more than 144 islands to explore, and with private chefs, infinity pools and a Porsche at your disposal, you can be as lazy or active as you like. You'll feel like a rock star. Double rooms from USD $1,284 plus tax.
Mr & Mrs Smith is the globally trusted boutique hotel collection and booking service; its name a cheeky nod to the classic British check-in pseudonym. Having amassed a dedicated UK following, Smith launched in the US in March 2011 with more than 850 recommendations for stylish, unique and romantic properties around the world. Every Smith-approved hotel is anonymously reviewed by a tastemaker couple (reviewers include Stella McCartney, Dita Von Teese and Cate Blanchett), who supply irreverent and honest accounts of their stays. Mr & Mrs Smith also has a team of in-house travel specialists available by phone, 24 hours a day. Anyone can access the website, tap into the insider info and book hotels at the best possible rates, but members get travel perks such as money back with every booking, room upgrades and exclusive hotel and shopping deals. With headquarters in London, Smith now has offices in Melbourne and New York City, and was recently awarded the 2011 Condé Nast Traveller UK Readers' Award for Best Website. http://www.mrandmrssmith.com
###