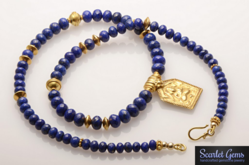 "I select only the finest quality gemstones and pearls from all over the world and take great care to ensure the stones are positioned perfectly."
Pacific Palisades, CA (PRWEB) November 15, 2011
Scarlet Gems, an original handcrafted jewelry business based in Pacific Palisades, California, officially launched its e-commerce website today. ScarletGems.com is a web presence where customers can shop for high-end necklaces and jewelry, and discover information about fashion industry news. The site will have an area for shopping, a weekly blog with updates on the business and fashion industry, and news and information from the company's founder and designer, Terry Snider.
"Each piece in my collection is of my own design and lovingly handcrafted with meticulous care," said Snider. "I select only the finest quality gemstones and pearls from all over the world and take great care to ensure the stones are positioned perfectly."
Scarlet Gems currently sells necklaces and bracelets with prices ranging from $85 to $2,000 in four categories: Sparkling Stones, Luscious Pearls, Exotic Amulets and Precious Gems. The jewelry is made from various stones and metals, including gold, sterling silver, semi-precious stones (amethyst, garnet, turquoise) and fine gemstones (rubies, sapphires, emeralds, and diamonds). Snider believes that her uniquely designed pieces, attention to detail, and lifelong passion for jewelry set her business far above other jewelers in her field.
"I created Scarlet Gems with the purpose of creating uniquely beautiful jewelry to be enjoyed and passed down to future generations. I devote great attention to the smallest detail in each of my pieces. Each gemstone I use has a special meaning and is integral to the design of my jewelry."
About Scarlet Gems: Founded in 2009, Scarlet Gems is a jewelry company based in Pacific Palisades, California that specializes in creating high-end necklaces and bracelets. All of the products are personally designed and made by the owner and founder, Terry Snider. Scarlet Gems products are available for purchase from the website at http://www.scarletgems.com, and at Brentwood General Store in Santa Monica.
###