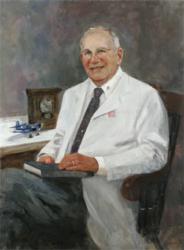 To say that Dr Cohen was a gentleman, says it all: he was indeed a gentle man.
Phoenix, AZ (PRWEB) November 12, 2011
Portrait painter Chris Saper was invited to share the stage Thursday night with physician and hospital leaders in honoring Dr Mel Cohen's service to Phoenix Children's Hospital. As the hospital's first and only Director of Medical Education, Dr Cohen has been a major influence in the conception and development of the Hospital's residency program, which has trained more than 400 residents.
"I've known and loved Dr and Mrs Cohen for almost thirty years," said Saper, "since the inception of Phoenix Children's Hospital in 1983. Not only was he an extraordinary clinician and medical educator, he was truly a gentleman."
The portrait is a composite of many aspects of Dr Cohen's life, created as a collaboration between family members and myself. It includes Mel's favorite paisley tie, the flag pin and the pearl tie tack he wore every day. He holds his medical school yearbook, the Hippocratean from 1954; one of the things I learned about Mel during the process was that he was an artist himself, creating the woodcut and pen and ink drawings that pepper the yearbook pages. On the shelf behind him is a clock given to him by Phoenix Children's Hospital is recognition of his extraordinary service. An avid builder and flier of large remote controlled airplanes, the replica included on the shelf next to him was one of his favorites, a US Navy aircraft. The chair in which Dr Cohen sits was given to him by the medical education program he founded, and is handmade of three different types of wood.
Dr Cohen was the first pediatric kidney specialist in the Valley. He started the first pediatric kidney transplant program in Arizona, and later, founded the Department of Nephrology at Phoenix Children's Hospital. He helped develop that program into the largest pediatric nephrology treatment center in the Southwest, which provides more than 90 percent of the pediatric kidney transplants, hemodialysis and peritoneal dialysis in the region.
Dr Cohen passes away on September 4th 2011.
Portrait artist Chris Saper has delivered almost 400 commissioned portrait to clients nationwide since beginning her portrait painting practice some 22 years ago. Prior to painting portraits, she served as a health care executive in several organizations in Phoenix, and worked on the Phoenix Children's Hospital project for thirteen years.
###