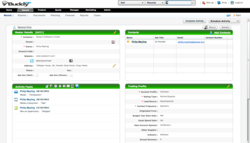 A quick and easy tool that I can use to accurately track status of my prospects and clients
(PRWEB UK) 8 November 2011
One of the UK's leading and most respected sales training organisations has recently adopted BuddyCRM as their Sales Management software.
Despite a plethora of CRM vendors in the marketplace, recent figures show around 70% of CRM Software installations don't meet the purchasing organisations expectations. This means that despite technology continuing to advance to be more intelligent and complex, the actual process of implementation is not improving.
The team at BuddyCRM found success adopting a consultative approach where most of the sales management work is focused on documenting and aligning sales and business processes and linking them into the system. As Philip Mayling, co-founder, commented:
"Implementing CRM software is an ongoing process as systems and businesses develop and change. The biggest reason we see implementations fail is through lack of time being available from senior management, which then leads to a lack of user adoption. Most of our work with clients is offline rather than online and instead of 'talking tech' with terms such as 'APIs' and 'social media', we prefer to build the basics first. We can do all of that but we talk business rather than software as our customer's primary function is not to simply run a great CRM system but to increase sales efficiency and profitability."
This focus ties in with BuddyCRM's recent link-up with TACK, one of the UK's most decorated and respected sales management organisations. TACK works with thousands of businesses every year to help develop sales efficiency and best practice.
As TACK Business Development Manager, and BuddyCRM daily user Iqbal Kanji remarked:
"BuddyCRM has proved to be a quick and easy tool that I can use to accurately track the status of my prospects and clients. The platform is designed to assist salespeople maximise their opportunities and to focus their time selling. The support team is always very helpful and responsive to any enquiries and I would happily recommend it."
BuddyCRM was built to be easy to use while also helping the salesperson rather than just act as a big brother control device. Features such as customer website monitoring, proactive contact frequency reminders and smart opportunity management help with this. The team at BuddyCRM designed the software to help ensure the sales team spend as much time selling and as little time using CRM software as possible.
Subscriptions are highly affordable from £17 per month and users can sign up for a free 30 day trial at BuddyCRM.com.
About BuddyCRM
BuddyCRM was founded in 2009 by a group of sales professionals who had grown frustrated with not being able to find a piece of CRM software that could balance being useful to users but also give the sales management information required to help run a company at a price affordable to Small and Medium businesses. For more information visit http://www.buddycrm.com.
Media Contact:
Philip Mayling, Co-Founder
BuddyCRM
Pm(at)buddycrm(dot)com
0121 288 0808
###