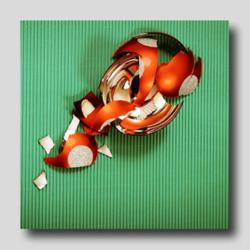 The right kind of Christmas ornament storage solutions will keep your precious ornaments safe for generations.
White Rock (PRWEB) November 22, 2011
Christmas ornament storage can challenge even the expert organizers. It makes sense to select storage solutions that both store and protect those precious Christmas decorations. Specialty storage solutions are now available at Organization Makes Sense, the website where efficient home storage and organization are simplified so they can be applied by anyone.
"Your precious holiday ornaments spend more time in storage than they do on display so it makes sense to invest in good home storage solutions that will protect them for the 11 months of the year they are not in view." says Beverly Hansen OMalley.
Bev is the owner of the home organization website, Organization Makes Sense where good home storage ideas are available at any time of the year.
The end of the year brings special storage and organizing challenges when holiday decorations are brought out for the annual festivities and the family collection of heirloom decorations grows with new purchases or even treasured gifts. Christmas storage ideas at http://www.organization-makes-sense.com now include specialty storage boxes, bins, and bags to store and protect precious items so they can be enjoyed for generations to come.
"If putting up the Christmas decorations is part of your family tradition you will want to make sure you have good home storage ideas in place for the variety of ornaments and lights needed for the season." says Bev.
Good Christmas light storage solutions are essential to prevent the annual tangled mass that confronts most homeowners every year. The right storage product will keep lights tangle free and preserve them for years.
Christmas wreath storage can also be a challenge. Specialized soft zippered containers are now available to tuck special wreaths away and preserve them for enjoyment next year.
An artificial Xmas tree can be stored upright in a specialized bag complete with lights and ornaments. There are even rigid Christmas tree storage boxes sized up to 52 inches so all the sections of the Christmas tree will fit.
"Your precious Christmas ornaments deserve to be stored and properly protected," says Bev. "With the variety of products now available for specialty decorations, even the most delicate ornaments can be protected so your family can enjoy them and the memories they help to create year after year."
Like all the home storage ideas offered at Organization Makes Sense, Christmas ornament storage solutions that store and protect those precious holiday decorations just makes good sense.
###