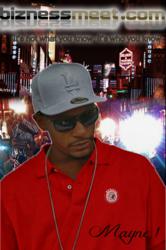 Biznessmeet.com announces... Promoter, Producer and Hip hop artist, Mayne 1!
Winston Salem, NC (PRWEB) November 29, 2011
Mayne1 is not a typical artist. In addition to his impressive talents as a rapper and performer, Mayne1 is also a skilled writer, promoter and producer.
In addition to his musical abilities, Mayne1 is also one of the visionaries behind Mo'rilla Entertainment & Music Group. He has collaborated with other artist and several producers to present music that is relevant, compelling, motivational and entertaining. The buzz continues to build around this gifted and charismatic performer. Mayne1 has an ever growing fan base and he has performed on numerous stages with the best such as Slick, Pulla, & Blood Raw.
With his distinct voice and delivery and hard hitting tracks, this dynamic artist is set to take the world of hip hop by storm.
For more information on Mayne1:
Visit his profile page on http://www.biznessmeet.com;
http://www.morillaentertainment.com
###