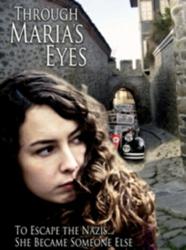 Chandler AZ (PRWEB) November 02, 2011
David Rich, the co-author of the book Through Maria's Eyes, is appearing at the upcoming American Film Market in Santa Monica, CA. The eight day event is not just a film festival, but also a marketplace where production and distribution deals often take place. Rich is seeking a movie deal to bring the engaging story of a Jewish woman who survives the Hungarian Holocaust to the big screen.
Rich, who co-authored the book with Linda Sunshine, will be handing out free copies of Through Maria's Eyes to both interested parties and random attendees. Rich's goal is to keep a promise to his mother, who passed away last year at the age of 91, to enlighten people about what that dark period in history was really like. The gripping tale becomes even more poignant since the events described are presented through the eyes of a person who lived through them.
Through Maria's Eyes tells the true story of a Jewish woman named Gizella Kornfield who was born and raised in Budapest, Hungary. Kornfield, the daughter of a prominent Rabbi, was engaged to be married to a man she considered her ideal match. Kornfield was focused on her upcoming wedding to the handsome and wealthy man she loved when the Nazis invaded Budapest in March of 1944. The goal of the Nazis was to eliminate as many Jewish people as possible before the world found out the true nature of Hitler's plans.
Gizella was terrified for her family and for herself and her friends. In order to protect herself and her family, Gizella assumed a false Christian identity. It was during this time that Gizella took a job as a maid with an anti-Semitic family. Eventually, Gizella was able to save herself and her family. Gizella herself attributed this to a strong faith in her beliefs and some good luck when it was needed most.
Through Maria's Eyes uses the story of Gizella to illustrate the impact of one of the deadliest evils of the 20th century and perhaps modern history. It is easy to see why Davis is so determined to spread the word about this compelling story told to him firsthand by his brave and courageous mother. The book is both a commentary on life in Nazi Europe and a close look at woman determined to save her family and herself from certain death.
Rich, a film producer, performer and comic, is also promoting "Actor?, The Documentary" and "Margarine Wars," two movies from his production company, DB Rich Productions LLC. The book started out as a movie script by Scott Walker based on the life of Rich's mother. Sunshine brings her experience with other book-related film projects to the table, including bringing the classic "E.T. The Extra-Terrestrial" from concept to the iconic film it became.
The American Film Market takes place from November 2nd through November 9th with David Rich in attendance at the Loews Santa Monica Beach Hotel in Santa Monica, CA
###