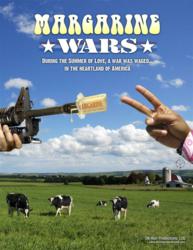 Chandler AZ (PRWEB) November 02, 2011
Margarine Wars' director and producer take the film on the road, seeking distribution. Director and producer David Rich, along with Producer and entertainment attorney Lee Rudnicki, are meeting with key individuals striving to seek proper distribution to share the film with the world. The production company is thrilled to be at the final step of post-production.
The Margarine Wars cast is a blend of Emmy winners, Academy Award nominees and newcomers. With 5 time Emmy award winner Doris Roberts, Robert Loggia, Dee Wallace and newcomer and comedian Ron G, this film is sure to be a success. The dynamic of the cast lent to a comforting and supportive atmosphere that can be attributed to the overall success of the movie. The star power that this film has will no doubt secure distribution.
DB Rich Productions LLC is set to release Margarine Wars in January 2012. The film is about an Afro-Jew from New York named Howard Schmear who finds himself stranded in a small conservative town in the middle of Wisconsin. In order to make money and get his vehicle repaired, he must sell the only substance that is considered illegal in the small town of Butterfield, Wisconsin. Howard causes a stir and satisfied taste buds by selling margarine to the locals of Butterfield. This comedy gives you an inside look into the strange mannerisms of a small town.
David Rich and Producer and Lee Rudnicki are currently at the American Film Market in Santa Monica, CA. The American Film Market is the ultimate marketplace for distribution, for independent film. David Rich and Lee Rudnicki have appointments with several distribution companies, and they hope to lock up a deal before the close of the event. Director and producer David Rich worked extremely hard on this film and had the opportunity to work with some of the best in the industry; he is confident that a lucrative distribution deal is in the near future.
In addition to the cast and the production team, the premise of the movie is what draws film enthusiasts in. The situations that arise and the fact that selling margarine is a felony makes this film a comedic hit. DB Rich Productions LLC is proud to have created a comedic masterpiece named Margarine Wars.
For information on Margarine Wars, visit the website margarinewars.com or like the film's Facebook page at http://www.facebook.com/MargarineWars.
###