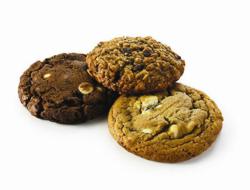 Delta, BC (PRWEB) November 02, 2011
Unifiller Systems, a food and bakery equipment manufacturer announces the new Mini-Dopositor, a depositor, extruding and cutting system. An advanced extruder designed for a wide range of products including chocolate chip cookies, scones, brownies, sugar cookies, pie dough; and food products such as meatballs, burrito fillings and meat patties.
Martin Riis, Product Specialist at Unifiller says, "We've seen a need in the marketplace for a machine capable of making standard, gourmet, gluten-free cookies and cookies with inclusions, but one that also fits the budget and space requirements for smaller bakeries trying to grow their business."
"Quality and consistency, as provided by the Mini-Dopositor, are key drivers to growth, and vital to a bakery's reputation and its ability to stand out in a highly saturated market," says Stewart MacPherson, Unifiller's VP of Sales & Marketing. "We think the Mini-Dopositor truly serves this market – it offers bakers simple installation and the ability to control their ingredient costs through portion control, while helping increase their production levels. Essentially we've designed this machine, with FME, to help bakers roll in the dough."
Riis also highlights a key benefit of using the Mini-Dopositor versus the traditional method of "ice-cream scooping" or "hand-scooping" which is lowering the risk of personal injury like musculoskeletal disorders due to repetitive action.
The Mini-Dopositor produces up to 3600 deposits per hour – just fill the hopper and press the start button. One operator can deposit up to 5 sheet pans per minute. Other benefits include:

Product consistency – no overworking of the dough
Easy to setup and disassemble for cleaning
Compact design
Multiple nozzles and die shapes available
3 options – PLC control, manual control and conveyor option
For more information check out the Unifiller website.
# # #