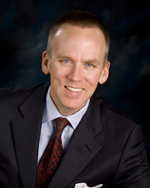 Negotiation is an essential part of success in business and in life.
Tulsa, OK (PRWEB) November 03, 2011
An attorney, former CEO and one-time US Congressman, University of Tulsa professor Brad Carson will teach a one-day seminar on Face-to-Face Negotiation December 13th, at the University of Tulsa. The seminar will teach participants how to get better deals, increased sales and improved relationships.
For advanced-beginner to intermediate-level negotiators, the class is designed to give business leaders a better understanding of their own negotiation style and approaches taken by those on the other side of the table through role play, case studies, face-to-face exercises, and inter-group competitions that will sharpen bargaining skills. The class will cover planning and preparation to gain the competitive edge, how to create value for the company in complex negotiations, evaluating trade-offs in multi-issue and multi-party negotiations, when to make the offer and when to walk away from a deal, as well how to maintain personal integrity while crafting the deal. Anyone wanting to hone negotiation skills including CEOs, sales managers and staff, contract managers, purchasing officers and buyers will find value in the class.
Carson is an associate professor at the University of Tulsa, where he has a joint appointment in the College of Law and the College of Business. He is also the Director of the TU National Energy Policy Institute. Recently, Carson was appointed General Counsel to the US Army by President Barack Obama and he is awaiting Congressional approval. Carson has experience in both public and private sectors, having served as Oklahoma 2nd District Congressmen and working in commercial law at Crowe and Dunlevy PC, the state's largest law firm. He was CEO of CNB, L.L.C. where he was responsible for negotiating tens of millions of dollars of agreements with banks, vendors, and companies.
The class is presented by the Collins College of Business Center for Executive and Professional Development. Class hours are 8:30 am. to 4:30 pm. in Helmerich Hall, 2900 E. 5th Street, Tulsa. Early Bird Registration is $325; additional discounts for groups of three or more from the same company. Register online at http://bus.collins.utulsa.edu/CEPD/negotiation.asp or call 918.631.2215 for more information. Seating is limited.
# # #