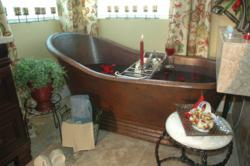 North Berwick, ME (PRWEB) November 02, 2011
PLFixtures (plumbingandlightingfixtures.com) has recently added Premier Copper Products to their online inventory.
Making the decision to add copper sinks and copper bathtubs from Premier Copper Products our online inventory was easy for PLFixtures. Several criteria where considered in the decision.
Premier Copper Products is a premium line of copper sinks and copper bathtubs that are not only green products that are made of 99.7% pure recycled copper , they also contain <0.01% lead., making them not only environmentally friendly but endlessly recyclable. They will never go to a landfill.
Copper has anti-bacterial and anti-fungal properties; bacteria on copper surfaces are killed by the copper with-in hours; on other surfaces like stainless steel or enamel, bacteria can survive for a week or more.
The quality and style of the handmade construction impressed the staff at PLFixtures. Example:
Hand rolled corners and edges the copper kitchen sinks instead of 90 degree machine bends means stronger corners as well as no trapped debris that hamper drainage, which will be hard to clean and cause discoloration.
PCP products use 14-gauge copper instead of the more common and lighter 16-gauge in there tub and sink construction. A common complaint on apron front sinks is that the apron bends in after prolonged use. These aprons from kitchen sinks have 3 14-gauge copper supports that provide strength at the corners and in the middle of the apron.
PLFixtures was equally impressed that no chemical treatments or sealants are used to color PCP products as on poorly manufactured copper sinks.
Heat Treated
All copper bathtubs and copper sinks are heat treated (tempered) to achieve a patina finish, which is a living finish that will regenerate itself the entire life of the product. These products will NOT turn green unless it is used outside for decades.
Warranty: Premier Copper Products warrants it's sinks and tubs to be free for manufacturing defects in material and workmanship for as long as the original consumer owns their home.
Premier Copper Products sinks cUPC certified their bathtubs are UPC certified. The complete Warranty and Certifications are available at PLFixtures.
###