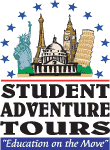 Our new website features more useful content for schools and teachers who are planning student field trips.
Miami, FL (PRWEB) November 01, 2011
Student Adventure Tours (SAT) is proud to announce changes in top management that provide fresh energy and ideas for student field trips. "We have been doing this over over 20 years, and sent thousands of students on educational tours. In addition to revamping company management and bringing on new talent, we are happy to launch a brand new website that features more useful content to schools and teachers. We've expanded our lineup of educational travel & tours," says Kimesha Wing, newly appointed Vice President of SAT.
SAT provides complete and all-inclusive student field trips for schools and children in all grade levels. Some of the more popular destinations for school trips include Philadelphia, New York, and Washington, DC.
SAT's new website is located at http://www.StudentAdventureTours.com and has been redesigned to deliver more meaningful content and resources for teachers.
"To better serve teachers and student field trip planners, we wanted to offer more website functionality and ease-of-use, while strengthening our relationship with the schools that have worked with us since we opened our doors," says Kimesha Wing, Vice President.
"We wanted to engage our audience of teachers and field trip planners with content that is relevant to their educational travel needs," says Jeremy Globe, Director of Sales.
Contact us today and see why we are "Leaders in Student Field Trips and Educational Travel"
About SAT
SAT was founded in 1991 in South Florida and was considered a pioneer in the field of planning and coordinating student field trips for schools of all grade levels, travelling to destinations both domestic and international. We have earned a reputation of being an innovative, reliable, professional, and ethical student travel company. SAT became a household name by doing good business with thousands of students nationwide.
Today, our mission is still the same - To provide a safe, fun, and educational travel experience for each student. We are committed to helping children of all ages discover history, science, government, and the performing arts in an enjoyable way. SAT is a Licensed/Insured, and proud members of SYTA (Student Youth Travel Association). Our core service is quality student travel & tours at competitive prices.
STUDENT ADVENTURE TOURS / SAT
11921 S. Dixie Highway ● Suite 207 ● Miami, FL 33156
Phone: 1-800-241-1728 ● Fax: 305-256-1171
E-mail: info(at)studentadventuretours(dot)com ● Website: http://www.StudentAdventureTours.com
Member: SYTA, The Guild of Professional Tour Guides of Washington DC.
###