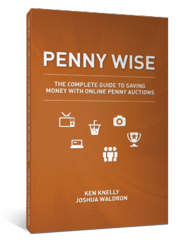 (PRWEB) November 03, 2011
Written by penny auction pro and a veteran journalist in the how-to tradition of the successful Dummies genre,Penny Wise is marked by detailed research, key-player interviews, cautionary notes, and solid, proven advice.
Penny Wise was developed with both novice players and seasoned buyers in mind. It shows readers how to win penny auctions, save more dollars, and avoid common mistakes.
"Readers will benefit from the lessons I've learned along the way," said co-author Joshua Waldron, owner of StudioJWAL.com, a web-design firm based in the Blue Ridge Mountains of Virginia. "I've also learned from writing this book. Interviews with bidders who have done better than me and conversations with entrepreneurs have shed new light on the penny auction industry and where it's going."
With humor, insights, and clear examples, Penny Wise takes readers inside the business model of the growing industry of penny auctions. A straight-forward, easy-to-follow penny auction guide, it outlines the sector's problems with scams, rip-offs, and class-action lawsuits.It also delves into ways readers can spot problems and succeed on legitimate penny auction sites.
Penny Wise chapters examine:

Origins of the penny auction industry
The unique business model behind the sites
Basic fundamentals and various auction formats
Ways to know when to bid (and when not to)
Tactics in developing an online identity
Methods of tracking your success
Ways to recognize red flags and problem sites
Monetizing your wins
Starting your own website
"This book goes far beyond simple tactics and steps to success," said co-author Ken Knelly, owner of Clearberries, a strategic communications firm in Northeastern Pennsylvania. "We looked at the business model, talked with operators, and pulled SEC filings for would-be start-ups. There are very real cautions out there. We aim to steer bidders in the right direction to success."
To learn more about Penny Wise: The Complete Guide to Saving Money with Online Penny Auctions:
Visit: http://www.pennywisethebook.com - available in paperback and e-book formats
About the Authors:
Penny Wise: The Complete Guide to Saving Money with Online Penny Auctions builds off the bidding experience of co-author Joshua Waldron, the creator and owner of PennyAuctionList.com, a dynamic one-stop, user-oriented site clearinghouse featuring news, auction ratings, and more.
Penny Wise co-author Ken Knelly spent a dozen years as a print journalist, garnering regional and national awards in business journalism among other areas.
###