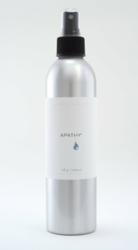 A simple, inexpensive way to relieve stress and encourage productivity in the office or at home.
Winchester, VA (PRWEB) November 01, 2011
A colleague comes back from maternity leave and wants to show off a new baby. It's time to work on a new strategic plan.
Finally. There's a new spray cure for that. "Apathy" aromatherapy room spray was released last month by HR Products and is already a top seller.
Can a nice-smelling cubicle really improve the work day?
"Yes," says HR Products' founder Heidi Rettig. "Our sense of smell to sends messages to the limbic system in the brain where our emotional life takes shape. When you smell something good, your emotional brain responds to these scent messages before you've had time to think twice.
That's the same science that encourages real estate agents to bake cookies for an open house. The comforting smell greets prospective buyers as they walk in the door. Before they are even aware of what's happening, their brain is already associating the space with "home."
Apathy aromatherapy spray was blended to be universally appealing, with a mix of essential oils that clean stale office air and revive the mind. The scent of grapefruit energizes and refreshes the mind; encouraging positive thoughts. Lavender has a natural calming effect and is aromatherapy's "go-to" cure for anxiety, depression, headaches, and garden-variety tension. Rosemary stimulates memory, and a hint of it will make you feel brighter and sharper during those long afternoons in your cubicle.
"Aromatherapy is a simple, inexpensive way to relieve stress and encourage productivity without any side effects. These sprays are deliberately subtle; they are not perfume strength and they will not overpower colleagues or relatives sharing your space." says Rettig. "If apathy isn't your main concern, we also manufacture The Antidote for Ego; Passive and Aggressive natural air fresheners. At around $14, any of the four sprays would be a great holiday gift for coworkers, friends, and family. We are now offering free shipping through the holidays."
Concerned about your boss finding a bottle of Apathy on your desk? "I package the product according to FDA standards," Rettig answers with a smile, "But I also chose labels that can be easily removed by the consumer."
###