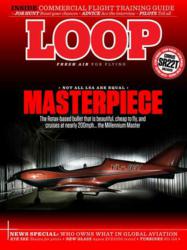 It's the most creative General Aviation magazine App on the App store
Cambridge (PRWEB UK) 18 November 2011
A new iPad app brings you the very best in flying, and celebrates what it takes to fly for fun, to fly for a career, or simply to fly better. It can be downloaded by clicking here
LOOP for iPad is a new addition to the App Store, celebrating every aspect of just what it takes to be a pilot and shining a light on the best of leisure flying – the place where every person who made the decision to chase the dream of being a pilot can marvel at the sublime pleasure of flight.
It's been created by the same LOOP Digital team that makes the standard-setting LOOP magazine for pilots each month – but with tons of added video and insight to make the best use of the coolest thing to hit aviation in years: the iPad.
The LOOP team has already created the five-star FLIGHTTEST app and P1 Business Aviation Magazine, the fastest-growing app for business aviation on the iPad. Click here.
The debut LOOP for iPad starts with a bang, bringing iPad users the best of the legendary Oshkosh EAA AirVenture show in Wisconsin – the biggest event for flyers in the world, with over half a million fans and attendees from all around the world. It analyses the best new kit for pilots and planes, and speaks to the most interesting people at this incredible event.
LOOP has always been about putting you in the hot seat of really cool aircraft, and the iPad issue flight tests a plane that is already being called a Ferrari of the skies: the Millennium Master. Aviation is being turned upside down by the new class of Light Sport Aircraft that lets more people get into flying for less money, and the aerobatic but cheap-to-run Master is about the coolest that has yet been built.
Add to that news, advice on how to get into flying and how to fly better, a look at Cessna's next big temptation for existing pilots, and video and photography from award-winning lensmen, and LOOP Digital media have developed an app that finally makes the iPad into a virtual airfield which lets readers dazzle at the joy of flight even if it's blowing a hurricane outside.
The LOOP app is free to download.
###