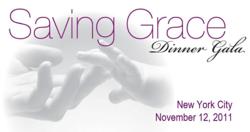 New York, NY (PRWEB) November 01, 2011
Two North American foundations have joined forces to further their respective causes, together. The Preeclampsia Foundation and the Foundation for America's Blood Centers (FABC) are co-hosting this year's 7th annual Saving Grace – A Night of Hope and Gratitude dinner gala at the Hilton New York on November 12, 2011. Maternal and infant death and other adverse outcomes associated with childbirth are important issues for both organizations' stakeholders and supporters. Proceeds from Saving Grace will be shared equally between the two organizations, a creative and unique fundraising strategy addressing today's economic challenges.
"Working together, we both accomplish our goals of raising awareness and much-needed funding for our respective initiatives," said Eleni Zuras Tsigas, executive director of the Preeclampsia Foundation, a national organization that raises funds to underwrite research for this life-threatening pregnancy disorder that impacts as many as one in 12 pregnancies. "Despite being one of the oldest diseases on record, preeclampsia remains one of the leading causes of mothers and babies dying around the world. It is a key risk marker for women's heart disease, and more than half of all pregnant women do not know preeclampsia's warning signs." Worldwide, preeclampsia claims the lives of an estimated 500,000 babies and 76,000 mothers each year.
"Preeclampsia often provokes the need for blood products. New moms and babies represent one of the major patient groups in need of life-saving blood transfusions," explained FABC President and Chief Ambassador Lauren Ward Larsen. "So survivors of this disorder and their families often feel beholden to both causes as they come out of their traumatic experiences, ready to make a difference where it will really count." Every 2 seconds someone in the U.S. needs a blood transfusion. Over 38,000 pints of blood are needed each year in the U.S. alone. There is no substitute for blood; it simply must be donated. Less than 8 percent of those eligible to donate blood actually do so.
The gala's program will reflect the shared missions of the two complementary organizations as keynote speaker Dr. James N. Martin, Jr., President of the American College of Obstetricians and Gynecologists; Mistress of Ceremonies Diana Williams, a New York City broadcast reporter; and featured performances by the New Jersey Youth Chorus and international composer Jim Papoulis all focus on the shared issues of maternal-infant illness and death, the solutions available today and the ones being created for tomorrow.
Presenting sponsors include Johnson & Johnson and Ortho Clinical Diagnostics, with additional support provided by Abbott, Merck and others.
More information about this event can be found at http://www.savinggrace.preeclampsia.org. Please visit http://www.thefabc.org or http://www.preeclampsia.org for more information about the respective 501(c)(3) organizations.
About the Preeclampsia Foundation: The Preeclampsia Foundation is a U.S.-based 501(c)(3) not-for-profit organization established in 2000. It is dedicated to providing patient support and education, raising public awareness, catalyzing research and improving health care practices, envisioning a world where preeclampsia and related hypertensive disorders of pregnancy no longer threaten the lives of mothers and babies. For more information, visit http://www.preeclampsia.org.
About the Foundation for America's Blood Centers (FABC): The FABC believes that no one should die for lack of access to a safe and adequate blood supply. The FABC funds initiatives that improve the availability, quality and safety of blood to save, extend, or enhance the lives of patients. To implement these programs, we partner with an extensive network of nonprofit blood centers throughout the U.S. and Canada known as America's Blood Centers. Together, these centers are responsible for half the U.S. blood supply, saving millions of lives each year.
# # #