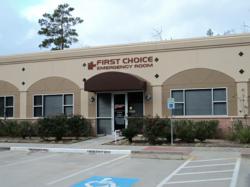 The Woodlands, TX (PRWEB) November 01, 2011
First Choice Emergency Room, Texas' largest network of freestanding, no-wait emergency rooms, has announced that its location in The Woodlands will be open 24 hours a day, 365 days a year. The new hours take effect on Friday, November 11, 2011.
This is the third First Choice ER location to move to 24 hour service, and the second facility in the Houston area to do so.
"We're excited to extend our hours," says Jason Worley, COO for First Choice Emergency Room. "The Woodlands has been a great location for us."
First Choice ER operates twelve free-standing emergency rooms in cities across Texas. While First Choice ER opened its first location over eight years ago, free-standing emergency rooms are still a relatively new concept in medical care.
These facilities can provide an equivalent level of care to that seen in most hospital emergency rooms, but without the overcrowding and long wait times. At the same time, they offer a higher level of care than neighborhood urgent care centers.
All First Choice Emergency Rooms feature advanced diagnostic equipment such as CT scanners and digital X-rays. All of First Choice Emergency Room's physicians are board certified in emergency medicine, and all of the company's nurses are trained in emergency care.
"Each of our locations also performs on-site laboratory tests," says Worley, "Which means we can do blood work and other lab tests right away."
With its new extended hours, residents of The Woodlands can get this care anytime, day or night.
The Woodlands emergency room is located at 10333 Kuykendahl, Suite B, The Woodlands, TX 77382. Contact the facility at (832) 381-1999 or view a YouTube facility tour.
About First Choice Emergency Room
First Choice ER facilities are freestanding, fully equipped emergency rooms. All physicians are board certified in emergency medicine, and all FCER nurses are emergency trained. First Choice ER offers an innovative concept in the delivery of emergency medical services for adult and pediatric emergencies, both major and minor. With seven locations in the Houston area, four in the Dallas/Ft Worth area and one in the Austin area, patients receive high-quality treatment with minimal wait times.
For more information, locations and hours, visit http://www.FCER.com or call toll-free 866-99-FIRST (34778).
Contact: Kristyn Eldridge
P: 972-899-6642
F: 972-899-6665
Email: Kristyn.Eldridge(at)FCER(dot)com
###