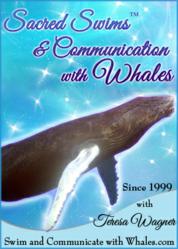 Added to scientific knowledge about whales' biology and behavior, messages from telepathic communication with whales allow us to begin to know them as individual, whole beings.
Carmel, CA (PRWEB) November 03, 2011
Professional animal communicator Teresa Wagner, who swims with and has been communicating with whales since 1988, has created an in-depth webinar to help people understand the lives of whales from the perspective of the whales. Beyond biology and behavior, the content focuses on the whales' communication about their own life stories including their emotional and spiritual experiences, and their opinions about their relationships with humans, including humans' treatment of whales.
The internationally available webinar will be held live on November 13th from 11:00 am to 1:30 pm Pacific Time and will also be available on demand effective November 18th. Whether participating live or on demand, registration includes an audio recording of the full two and one half hour webinar and copies of over 150 pages of supporting handouts and whale images. This educational experience is ideal for those who love whales and want to expand their understanding of the spiritual and emotional lives of whales and their messages for humans. For more details and to register visit: http://www.animalsinourhearts.com/workshops-events/descriptions/wisdom-from-the-whales.html
Describing what communicating with whales is like, Wagner says:
"Communication with whales, while mystical and deeply rewarding, is neither mysterious nor paranormal. It also need not be rare. When we listen with a genuine depth of empathy, respect and love, and regard ourselves as soul peers rather than as a superior (or inferior) species to whales, we can then begin to hear them with accuracy, grace and ease. We can then telepathically receive their thoughts, feelings and stories of what it is like to be a whale and their perceptions about the tapestry and purpose of our existence together on earth."
Wagner also describes how the information in the webinar differs from other published information about whales: "While archetypal myths about whales have served to inspire whale lovers over the ages and behavioral observation is a critical part of research which helps us scientifically understand and save whales, telepathic communication is the vehicle that allows us access to the minds and souls of individual whales. In conversations with whales, we learn their perspectives of their lives--directly from them--not from stories we make up and turn into myths or from assumptions we may make about why whales behave the way they do. Added to scientific facts about whales' biology and behavior, messages from telepathic communication with whales allow us ask whales why they do what they do and to begin to know them as individual, whole beings. "
The webinar content includes:

Understanding the difference between actual conversations with whales and archetypal stereotypes about whales
Whales' views of their role in the world • What it's like for whales when humans intentionally visit them in the ocean
Their thoughts on Love
Mothering, escorting, singing, mating, and migrating experiences
Their experiences of being entangled in fishing gear
Light, joyful moments with whales
Their views of whalers and being hunted: experiences of trauma, forgiveness and life after death
Their experiences of human rescue attempts & receiving healing energy
What they say it's like to live in captivity
Messages from whales who serve as spiritual guides and healers
Resources for communicating with the whales yourself
Meditations to connect with the whales
What can we learn from the messages in this whales' communication webinar?
Participants who've taken earlier versions of this class comment on their experience:
"A very full experience with Teresa and the whales' communication with her, offering insight and wisdom on many levels about ourselves, the whales, and all species," from Kristin T. in New York.
"Anyone who has any desire to connect with the wise energy of the whales must take this course to receive a well rounded and intelligent experience. Teresa made her gifts of animal communication very accessible and empowered all of us with clear directions and deep respect," from Fawn C. in California.
"The content of this class unexpectedly touched my heart and, more importantly, jarred me into taking a proactive stand for whale conservation," from Donald S. in Massachusetts.
Regarding what she's learned most from communication with whales Wagner says:
"We do best by whales not by treating them as a soulless resource to kill for profit or exploit in captivity, or by going to the other extreme of assigning them halos and turning them into God like beings to worship. Rather, we do our best by whales by considering ourselves partners with them on our parallel journeys of life on earth together.
By doing so, as partners, we must give back to them, not just receive from them with mesmerizing "feel good" movies and our blissful experiences with them in the wild. They need and deserve the very things we need ourselves--love, respect, empathy, understanding, healing and standing up for them with protection and activism when they need our help--which they most assuredly do right now."
For more details on the webinar or to register visit http://www.animalsinourhearts.com/workshops-events/descriptions/wisdom-from-the-whales.html A related webinar, How To Communicate with Animals, is also available on demand.
Teresa Wagner has had an active animal communication practice for over twenty years which has included on going communication with whales. She has been facilitating sacred swims trips with humpback whales in Silver Bank off the Dominican Republic since 1999 and also offers a line of whale inspired gifts.
To view videos and photos of humpback whales and to read about sacred activism to help whales follow her on Facebook on her blog For the Love of Whales.
###