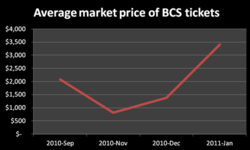 Prices for the BCS game pick up in December and January, reaching as much as $3,500 per ticket.
Carlsbad, California (PRWEB) November 04, 2011
Houston Cougars, with a 6-0 starting record, have moved up from number 21 to number 19 in BCS Rankings. In a report presented by Houston Chronicle, BCS Rankings released this Sunday showed Cougars moving up four standings from their previous position. The first Bowl Championship Series Ranking list was released by Associated Press for the 2011 season, earning Cougars a position in the poll of top 25 College Football teams. Cougars are one of the 10 teams in Football Bowl Subdivision who are undefeated till now.
The recent BCS Rankings have Cougars in the list first time after the 2009 season. Remarking on this, Kevin Sumlin, the head coach of the team, said that it's good to see the team included in the BCS Rankings.
With the news of Houston Cougars being in the top tier, the secondary tickets market is also witnessing a change. Representative of Ticketluck.com, Anastasia Lyman, spoke on this ongoing trend. "Tickets to BCS games don't start selling till near the event but this added attraction about Cougars has created a nice buzz to get the tickets." Prices for BCS game pick up in December and January, reaching as much as $3,500. "Now would be a good idea to book these BCS tickets as a significant drop is seen in BCS bowl ticket prices during October and November," said Lyman.
After moving four spots higher in the BCS Rankings, Houston Cougars seem to have a good chance this season. So if they are planning to make it to the Bowl Championship Series game, they are in a better position, at least for now.
About BCS Champions Bowl
BCS Champion Bowl Series brings the ten top ranking teams from NCAA Division 1 Football Bowl Subdivision to compete in one event. The final two teams come together in the BCS National Championship Game, making it the biggest annual college football event. The present defending BCS champions are Auburn Tigers.
###