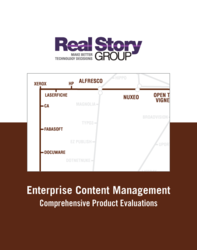 (PRWEB) November 01, 2011
A new ECM report targeting end technology users has been released by The Real Story Group. The report specifically addresses complex case management application building and if the concept of ECM as a platform is waning. Real Story Group Principal Alan Pelz-Sharpe remarked, "The E in ECM is quickly becoming anachronistic, with a back-to-basics approach from buyers of the technology. Buyers seems to be saying, "To hell with my broad enterprise needs, I have a very specific problem -- application processing, accounts payable, contract management, and so on -- and I want it fixed now."
As business application requirements grow more complex and critical each day, vendors are attempting to reposition products to answer the need. IBM FileNet has been building out increasingly complex case management capabilities, OpenText has acquired Global360 to do the same, and EMC Documentum continues to bang the drum for "intelligent case management."
Whether we call it "ACM" (Advanced Case Management) "ICM" (Intelligent Case Management), or "DCM" (Dynamic Case Management) it's primarily the same thing, and the need to manage "customer cases" in healthcare, government, legal, or any other type of case will continue to grow, as will the demand for automated processing of these cases. However, as ECM as a tool for building case-oriented applications grows, the concept of "ECM as a platform" may fall out of favor and the market could increasingly splinter.
The Real Story Group's new ECM Report is available immediately at http://www.realstorygroup.com, or by calling +1.617.340.6464. The price of the report is $2,450 and there are several additional subscription packages available. Subscriptions are designed to provide a comprehensive lifecycle solution to content technology, from the selection process, all the way through to maintenance and future product updates. An annual subscription to The Real Story Group allows you to customize Real Story Group knowledge to your own needs.
About The Real Story Group
The Real Story Group just celebrated its 10th birthday. They provide research and advisory services to support end users through content technology selection and implementation. Through highly detailed technical evaluations, advisory papers, and other premium services, The Real Story Group helps sort out the complex technology landscape, so that you can minimize time and effort identifying technologies suited to your particular requirements. To retain its independence as an impartial analyst firm, The Real Story Group works solely for solutions buyers and never for vendors.
Contact: Ian Hughes, ihughes(at)realstorygroup(dot)com
Marketing, The Real Story Group
Work +1.617.340.6464 ext. 20
http://www.realstorygroup.com
###