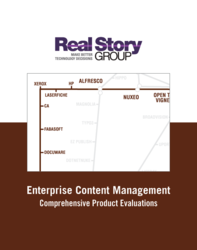 Boston, Washington DC, New York (PRWEB) November 01, 2011
The Real Story Group has just released its new Document Management Report with additional focus on intelligent image capture and case management.
Principal Alan Pelz-Sharpe noted that as end users of document management technology wise up to the value and power of intelligent image capture, making the right choice between seemingly similar offerings has never been more challenging. The new Document Management Report just released by The Real Story Group addresses these concerns head on and compares vendors directly, exposing their weaknesses as well as their strengths.
In the past year, many document management vendors have invested heavily in new capture functionality, with Oracle and IBM going so far as to acquire new technology. Stalwarts Kofax and EMC Captiva are also seeing increased competitive activity from the likes of Brainware, ABBYY, and ReadSoft, along with newcomer open source vendor Ephesoft. It's an aspect of the market that is heating up and driving many of the larger document management deals.
Document capture has gone way beyond scanning and creating static image files; new products are able to read with great accuracy the content in captured information, and then apply complex rules to that content, triggering business process activity. The degree of accuracy and speed of processing now available lifts these products to a new level.
The Real Story Group's new Document Management Report is available immediately at http://www.realstorygroup.com, or by calling +1.617.340.6464. The price of the report is $2,450 and there are several additional subscription packages available. Subscriptions are designed to provide a comprehensive lifecycle solution to content technology, from the selection process, all the way through to maintenance and future product updates. An annual subscription to The Real Story Group allows you to customize Real Story Group knowledge to your needs.
About The Real Story Group
The Real Story Group just celebrated its 10th birthday. They provide research and advisory services to support end users through content technology selection and implementation. Through highly detailed technical evaluations, advisory papers, and other premium services, The Real Story Group helps sort out the complex technology landscape, so that you can minimize time and effort identifying technologies suited to your particular requirements. To retain its independence as an impartial analyst firm, The Real Story Group works solely for solutions buyers and never for vendors.
Contact: Ian Hughes, ihughes(at)realstorygroup(dot)com
Marketing, The Real Story Group
Work +1.617.340.6464 ext. 20
http://www.realstorygroup.com
###