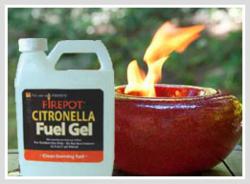 When an air compressor exploded at the plant I worked at, cast iron shrapnel blew through a cinder block wall into the left side of my body. I'll never be the same, but Bill Curtis was there for me and helped me recover $8.5M in injuries.
-Danny Turney
Dallas, TX (PRWEB) November 08, 2011
On September 1, 2011, the Consumer Product Safety Commission ("CPSC") banned the sale of virtually all pourable fuel gels used in decorative firepots due to serious injuries caused by flash fires. A fire occurs when a consumer pours gel into a seemingly unlit fire pot. The fuel contains isopropyl alcohol that burns with an almost invisible flame. Injuries often occur when the fuel gel ignites as the firepot reservoir is being refilled, resulting in an explosion of napalm-like fireballs showering anyone sitting or standing nearby. The CPSC is aware of over 70 incidents at this time, several resulting in death. Over half of the fuel gel incidents have resulted in hospitalization for second and third degree burns to the face, neck, chest, and extremities.
The gel fuel, which is sold at retail stores nationwide in 16-, 32-, and 64-oz containers, has been pulled from shelves in a wave of recalls following a CPSC investigation that began in June 2011. The recalls involve at least ten manufacturers and distributors, including Bird Brain, Inc., Napa Home & Garden, Bond Manufacturing, Sunjel Company (2 Burn Inc.), Fuel Barons, Inc., Lamplight Farms Inc., Luminosities Inc. (Windflame), Pacific Décor Ltd., Real Flame, and Smart Solar Inc.
Curtis Law Group recently filed a gel fuel lawsuit [case No. 2011-DCV-05468]* on behalf of a 29-year old woman who suffered second and third degree burns on her face, neck, chest, arms, and hands. While attending a cookout at a friend's home, the homeowner attempted to refuel a firepot that appeared to be extinguished. The gel exploded onto the young woman's face and chest in a stream of fire.
Dallas based personal injury firm, Curtis Law Group, is already reviewing and filing cases for people who have reported being injured by firepot gel fuel. If you, a family member, or a friend has been injured by these products please call 1-800-890-7449 or fill out our online contact form to discuss your rights with an experienced member of our staff regarding a gel fuel lawsuit.
*Case No. 2011-DCV-05468, Ramirez v. Bird Brain, Inc., et al., pending in the 210th Judicial District Court in El Paso County, Texas.
###