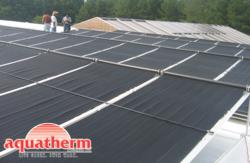 ...somewhere in the world, the sun is always shining on an Aquatherm Solar Pool Heating System.
Auckland, New Zealand (PRWEB) November 02, 2011
Aquatherm Industries, the largest U.S.-based manufacturer of solar pool heaters, has named Energy Conscious Design Limited in Auckland, New Zealand its newest International Distributor of the company's flagship solar pool heater product, Ecosun.
Ian Sumner, Engineering Director of Energy Conscious Design, has over 20 years of experience in solar water heating. As a Chartered Building Services Engineer he has written many articles and reports on solar water heating. Ian is the author of the solar water heating training articles that have been published in each of the Plumbers Journals since 2006.
Established in 2003, Energy Conscious Design has offices in New Zealand and Australia, and is widely recognized as the leading solar water heating design consultancy in New Zealand.
Sumner and his team of experienced Chartered Building Services Engineers place heavy emphasis on providing well engineered, reliable and cost effective solutions. "We have been either engaged directly by the client or sub contracted by other engineering consultancies to provide feasibility reports, solar computational modeling and detailed engineering design for many of the largest and most complex solar water heating systems in the country."
Sumner also sits on the Chartered Institution of Building Services Engineers, (CIBSE) Australian and New Zealand Regional Committee and represents the region on Standards Committees and for developing the CIBSE Technical Guide for Solar Water Heating.
Energy Conscious Design Limited furthers Aquatherm's rapidly-expanding global network of distribution that already includes Canada, Mexico and Central America, Australia, The Middle East, Spain, and Switzerland.
Said President and CEO, Dave Sizelove, "The addition of Energy Conscious Design as an International Distributor is one step closer to making certain that, somewhere in the world, the sun is always shining on an Aquatherm Solar Pool Heating System."
About Aquatherm:
Aquatherm Industries is the largest manufacturer of solar pool heating systems in the United States, the only manufacturer of NSF listed solar pool heaters, and the only US solar collector manufacturer to achieve the ISO 9001:2008 quality standard. Aquatherm manufactures several of the industry's leading brands of solar pool heating collectors, including the Solar Industries and Ecosun collectors.
Aquatherm's entire manufacturing process takes place at its 50,000-square foot technology center in Lakewood, NJ - the most modern facility of its kind in the world. For more information on Aquatherm Industries, its products or its dealer network, contact Molly Friar, Aquatherm's Sales & Marketing Manager at 1-800-535-6307, extension 226 or by email at mfriar(at)warmwater(dot)com.
###