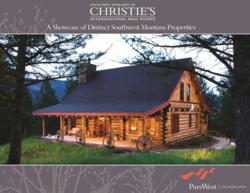 Bozeman, Montana (PRWEB) November 04, 2011
PureWest – Christies announces the publication of a Coffee Table Book featuring luxury mountain homes, ranches and properties in Southwest Montana. This collection of fine homes and ranches presents properties located in Bozeman, Big Sky, the Gallatin Valley, Madison Valley, Paradise Valley, Shields Valley and the Boulder.
Owner Stan Feagler stated that the book is intended to display the multiple purchase options available to buyers looking to explore the luxury real estate market. Jackie Miller, Managing Broker explained, "Our buyers are sophisticated and do their homework thoroughly…this publication will help with the education process. For example, Big Sky real estate offers world class skiing while Paradise and Madison Valley real estate offers blue-ribbon fishing. Bozeman on the other hand offers proximity to all the regions rich amenities in a family oriented community."
The PureWest - Christie's Coffee Table Book is the only compilation of all the best real estate Southwest Montana has to offer and will be updated periodically to feature the most current luxury real estate available.
About the company: Established in October 2009 as the premier luxury Big Sky real estate company, the Bozeman office was added in June 2010. In early 2011 the company expanded by adding offices in the Paradise Valley and Madison Valley, Montana. Often requiring interstate or even international correspondence and experience, the listing and sale of premium primary and second homes can be handled by the select few. PureWest - Christie's real estate agents have the experience and understanding to execute such sales. For more information regarding premium Montana real estate, please visit http://www.purewestproperties.com or call (406) 586-9418 to speak with an agent.
###