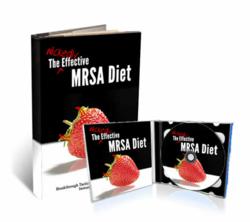 Most information
about MRSA is just wrong!
Grass Valley, CA (PRWEB) November 01, 2011
According to a Kaiser Foundation study, 1.2 million hospitalized patients have MRSA and the mortality (death rate) has been estimated to be between 4% and 10%. Another study suggested that the mortality rate may be as high as 23%.
To help combat this devastating disease, a revealing new book has been written by MRSA guru, Shannon Brown. He blows the lid off the misconceptions on the MRSA bacteria. Shannon says, "The devastating effects of this disease can be crippling both physically and emotionally." MRSA victims, the general public, and the medical community are finding themselves scrambling for a safe, easy and effective solution to this mounting problem.
 
Shannon Brown's new book appropriately called, "The Wickedly Effective MRSA Diet" has been created to help MRSA victims and their families cope with this disease. He is a noted scientific and medical researcher on MRSA.  Shannon, says, "MRSA is often misdiagnosed, misunderstood and most of the information available is wrong. The media promotes fear of MRSA while the medical world focuses on exposure as the problem. What's missing is a true understanding into the real cause of how MRSA functions in the human body."  
Here are three things from Shannon's book that you can do right now to limit your exposure and free yourself from MRSA:
· How to supercharge your immune system quickly and easily.
· Discover which foods actually help kill the MRSA bacteria.
· Common sense approach to flushing MRSA from your body for good.
To receive your free copy of the new book, "The Wickedly Effective MRSA Diet" go to a common sense approach to MRSA treatment. This website is dedicated to those people who want pure common sense approaches to getting rid of MRSA by attacking the source of the problem through diet. 
Author, Shannon Brown, better known as the MRSA guru, has been involved in the medical and scientific research of the MRSA bacteria for over seven years. His dedication to helping MRSA victims and their families are well documented on his website at MRSA30day.com
Author, Shannon Brown, is available for interviews.  You can reach him at (530) 400-3129 or contact shannon(at)MRSA30day(dot)com.
###