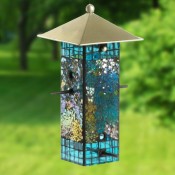 Unique Holiday Gifts
Clarence, New York (PRWEB) November 01, 2011
With only 55 days until Christmas, now is the time to get online and buy unique gifts under $50 without battling the traffic at the malls. Garden Art, Bird Feeders, Bird Baths and Bird Houses offer unique gifts that can bring joy to the entire family for years to come and are available at USABirdSupply.com.
25 Unique Christmas Gift Ideas Under $50 from USABirdSupply.com
1. Unique Sequin Bird Feeder (Bird Brain Sequin Bird Feeder – Yellow/Blue - $34.99) – This is THE perfect gift as it is absolutely gorgeous.
2. Glass Bird Bath (18" Hibiscus Glass Bird Bath - $34.88) – The beautiful 18" Bird Bath can be used to serve up snacks, hor dourves, or sweets for entertaining as they are food grade. Then, in the spring you can use it as a bird bath. The stand is sold separately. Comes in a variety of designs. Available from USABirdSupply.com.
3. Squirrel Bungee Jump (Birdola Squirrel KOB Bungee - $8.49) – Provides hours of entertainment watching the squirrels play and eat.
4. Rain Gauge (Circle of Bunnies Rain Gauge - $10.99) - It's fun to measure rainfall and the first known records were kept by the Greeks around 500 BC. USABirdSupply.com offers a variety of rain gauge styles.
5. Happy Hour Hummingbird Feeder (Woodlink Margarita Hummingbird Feeder - $5.99). While designed after seeing a hummingbird feed on an abandoned margarita, this feeder is specially designed for hummingbirds with feeding ports and a screw on cap so you can easily fill it with nectar. USABirdSupply.com offers the Margarita feeder and nectar.
6. Bird House (Evergreen Portly Cardinal Bird House - $12.99) – Very cute and creates great garden art that is functional. USABirdSupply.com offers a variety of birds in portly houses.
7. Bat House and Bat Kit (Heath Bat House for 12 Bats - $29.99, Bat Kit- $14.99) – Great for the in-laws, the bats and kids. As the United Nations declared 2011-12 as the International Year of the Bat and Bat Conservation, putting up a bat house helps reduce mosquitoes, a potential disease carrier. Mount the bat house when bats are not present—November to early March. USABirdSupply.com offers a variety of bat houses as well as the bat kit.
8. Butterfly Feeder (Birds Choice Flutterby Butterfly Feeder - $14.99). Great for kids, families and yourself. Just learning more about butterflies can be interesting. Butterflies fly by day, moths at night. A butterfly rests with its wings closed while a moth lands with them open.
9. Purple Martin House (Heath Purple Martin House- 12 Room - $46.74). Great gift for guys or those seeking a true, interesting hobby. Martin houses should be 10-20 feet off the ground, 30-120 feet from your home, and there should be no trees taller than the martin house within 40 feet. Keep them away from shrubs and bushes. Martins in Eastern US rely on humans for nesting and over one million North Americans put up housing for Purple Martins. USABirdSupply.com offers cedar, aluminum and plastic houses as well as starling resistant martin houses.
10. Copper Triple Tube Goldfinch Feeder (Finches Favorite 3 Tube Feeder- $39.99) – This feeder has three tubes that are vertically separated with poles in between allowing 20 goldfinches to feed at one time, which is an amazing sight.
11. Heated Bird Bath (Four Seasons Bird Bath - $49) – Deck or Pole Mounted, this bird bath has EZ-Tilt-To Clean Deck Mounting Hardware. It will not crack in winter, has a 3-year warranty and is fully tested in below-zero conditions. And, you can use it year round.
12. Solar Glow in the Dark Globe (Echo Valley Illuminaire 4" Gazing Globe -$14.39) – This solar globe glows in the dark. USABirdSupply.com offers a variety of gazing globes.
13. Glass Bird Bath Stake (11" Evergreen Glass Bird Bath With Stake – Ruby - $17.99) – This is a gorgeous bird bath that provides an unique garden accent. Comes in a variety of styles including goldfinch, hydrangea, water lily, poppy paradise, hummingbird, monarch, frog, English garden, tree of life, sunflower, and summer splash.
14. Easy Clean Tube Bird Feeder (Droll Yankees 18" Onyx Clever Clean Removable Base Feeder - $47.99) – While you may have a tube feeder, this one is special because you can clean the gunk from the bottom of the feeder as the base is removable.
15. Key Hider (Bird, Frog, Rabbit, Squirrel or Raccoon - $12.99). - These are cute and functional. Besides the animals, the bird varieties are Hummingbird, Cardinal, Bluebird, Chickadee, Mallard or Goldfinch.
16. Window Bird Feeder (Droll Yankees Winner Window Feeder - $34.99) – Window feeders are a wonderful way to see the true beauty of birds up close. Window Feeders are convenient to fill and clean, and also great for kids as well as seniors who sometimes have a hard time walking to replenish traditional feeders. They offer hours of entertainment for pets (pet TV).
17. Squirrel Proof Feeder (Squirrel-Be-Gone Bird Feeder - $24.99) – Get the squirrel proof feeder that has some style—leaves decorate the exterior.
18. Hummingbird Feeder (Woodlink Brushed Copper & Ruby Glass Hummingbird Feeder - $24.49) – Elegant hummingbird feeder with stunning copper finish and gorgeous ruby glass nectar bowl.
19. Stuffed Bumble Bee (Plush Bumble Bee - $6.99) - What's great about this bumble bee is that when you pull a string, it vibrates. Really cute!
20. Peanut Feeder (Birds Choice Recycled Peanut Feeder - $22.99) – Shaped like an acorn, this is a uniquely designed, eco-friendly feeder.
21. Oriole Bird Feeder (Woodlink Cut Glass Oriole Feeder - $25.99) – Orioles are a beautiful bird that you will enjoy with a new oriole feeder. It is used with nectar which you can buy or sugar water which you can make with 1 cup sugar, 6 cups of water – boil, refrigerate, then use.
22. Woodpecker Feeder (Woodpecker Chalet Double Suet or Seedcake Feeder - $24.49) – Woodpeckers are fun to watch and they love suet!
23. Owl House (Looker Products Screech Owl House - $43.99) - For those of you who give a hoot, this is the perfect gift…even to yourself.
24. Bird Seed Bell (Birdola Fruit & Nut Bell - $2.89 each, or $23.99 for a case of 10) - It's the holidays, a good time to ring in the season that has gone to the birds.
25. Seedcake Wreath (Birdola Seedcake Wreath - $11.99) – Welcome in the season with a wreath that is functional and fun for you and your birds.
USABirdSupply.com is Located in Clarence, NY Outside Buffalo And Offers Over 1100 Bird Products Including Squirrel Proof Feeders, Hummingbird Feeders, Purple Martin Houses & Gourds, Bird Feeders, Bird Houses, Bird Baths, Garden Art, Bat & Owl Houses, Garden Flags, Butterfly Feeders, Live Mason Bees, and Honey Bee Supplies.
###