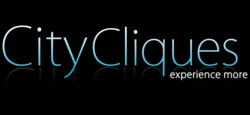 As part of the websites launch campaign, subscribers can buy a $10 Starbucks Card for only $5
Miami, Fl (PRWEB) November 02, 2011
CityCliques today announced the launch of its posh members-only flash sales website, CityCliques.com, thus elevating the Miami collective buying market, CityCliques specializes in unique upscale offers for the demanding bon-vivant and the adventurous thrill-seeker alike. As part of the websites launch campaign, subscribers can buy a $10 Starbucks Card for only $5, and then have the opportunity to get the gourmet coffee card for free by getting three friends to buy it through a unique referral url provided to each user.
Membership to the website is free and now the entire Miami community can take advantage of unique local luxury experiences and inspiring deals for up to 75% off at the trendiest upscale hotels, salons, spas, restaurants, escapades, events, evening venues and more.
As CityCliques CEO, Robert Graves states, "In the Miami area, there is a seemingly unlimited well of high quality merchants and savvy shoppers who realize they have a lot of options and want to get the most value for their money. CityCliques is determined to be the most dynamic and accessible bridge between the two."
For those who feel overwhelmed by the short time window other sites impose to decide whether to purchase the deal, CityCliques will alleviate the pressure by allowing a longer buying period, particularly with its leisure activities & travel offers.
Company co-founder Mark Elman adds, "We believe there are many areas of the South Florida market that are still untapped, particularly in the health & wellness, travel, entertainment, and recreation sectors. CityCliques wants its customers to feel a sense of ownership over our offers and to reap the benefits of continued interaction with our website."
The CityCliques launch month will feature an array of immediate use offers from various popular local merchants and national brands such as AMC Movie Theaters, Gaia Hotel & Reserve, and M Salon amongst others.
About CityCliques:
Founded by Miami based holding company, BookU Deals, CityCliques is a members-only flash sales site that connects its members to exclusive access to local luxury experiences and inspiring deals from the best venues in town. Interested parties can stay in touch with CityCliques on their Facebook page and on their Twitter page.
###