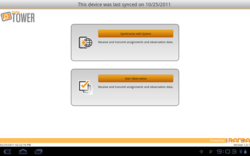 We're excited to see a more mature Android market developing and look forward to continued development on this platform.
Nashville, TN (PRWEB) November 02, 2011
With the newly released Android 4.0 operating system and new entries in the mobile device market, RANDA Solutions announces a pending release of its own: a fresh version of the TOWER Mobile app for Android devices. RANDA's soon-to-be-released Android update is part of its ongoing commitment to the Android mobile platform for teacher observations.
"We have made TOWER Mobile available for both iPads and Android devices from our earliest pilot studies," says Damon Tindall, RANDA's Chief Information Officer. "Earliest iterations of our Android offering proved difficult due to a lack of congruency among devices. We're excited to see a more mature Android market developing and look forward to continued development on this platform."
From its inception, RANDA's TOWER System for teacher evaluations has been a web-based solution that extends to mobile devices. Users synchronize their mobile devices, whether iPad or Android, to the TOWER System. Additionally, RANDA's paperless teacher evaluation system is highly customizable to clients' business rules, so users are instantly familiar in its virtualized form.
Tindall continues, "We have always been intentional about seamless cross-platform functionality. We had to wait for the platform itself to be embraced and stabilized among sufficient mobile device manufacturers to justify 're-writing to the platform'. We're confident Android 4.0 is so consistent that it merited our best efforts to re-work TOWER Mobile for newer devices like the Samsung Galaxy 10.1 and the upcoming Amazon Kindle Fire."
"This move is consistent with our larger commitment to cross-platform functionality," says Randall Dennis, RANDA's Chief Strategy Officer. "Whether administrators are using laptops, iPads or Androids, we want users to encounter the same experience of ease of use. Simplicity is a hallmark of our innovations, so technology gets out of the way- amplifying and accelerating educators' observation activities."
TOWER is primarily noted for several simple benefits to educators:

Virtually paperless observations save time and TOWER's observation data is immediately usable.
Easily manageable observation scheduling and progress monitoring.
Both system and mobile app are simple to learn and operate.
RANDA's Mobile iPad and Android apps sync to TOWER System – observations can be performed without Wi-Fi coverage.
Clients provide their own observation tools and walkthrough forms, which RANDA installs into the TOWER System.
"We understand educators don't need to be buried in learning complex technology. That's why it was essential that TOWER adapts to the business rules of the client," says Dennis. "Our developers, project managers, and trainers ensure TOWER's customization and deployment is swift," adds Tindall. "I'm proud of our technical staff and their commitment to get it right and get it fast."
Information on RANDA's TOWER System and TOWER Mobile can be obtained by calling 877.314.1412. A brief video on the Benefits of TOWER is available on YouTube: http://www.youtube.com/watch?v=uzIkQtHPX6s
RANDA Solutions is an INC. 500 software firm based in Nashville, TN serving the education sector. RANDA's tools for administrators and teachers aggregate and manage many types of education intelligence including standardized testing results, formative assessments, teacher evaluations and demographics. Historical and live data reporting, along with additional customized content, is delivered via RANDA's secure web portals and integrates seamlessly with RANDA's cross-platform mobile applications for iPads and Android devices. Information on RANDA can be found at http://www.randasolutions.com.
###