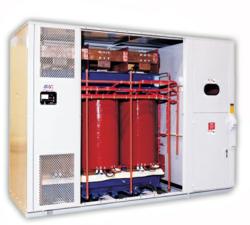 "...(VT's) UNICLAD model provides a superior, cost-effective alternative to common cast coil design transformers"
Roanoke, VA (PRWEB) November 03, 2011
Virginia Transformer possesses an unmatched level of experience and expertise in the design of dry type transformers, and its UNICLAD model provides a superior, cost-effective alternative to common cast coil design transformers. VT has been at the forefront of dry type transformer design for decades, supplying dry types for transit systems, utilities, mining operations, oil refineries, drive applications, induction furnaces and other demanding industrial applications, as well as data centers, hospitals, and office complexes.
Dry type transformers are suitable for a wide variety of applications, and are especially useful in hazardous or harsh environments, both indoor and outdoor. They are available in several different types of enclosures, including Totally Enclosed Non-Ventilated (TENV) for operation in extremely harsh environments where there are corrosive gases, high amounts of dust or other contaminants (such as coastal areas with salt in the air), or where the environmental conditions include high humidity or excessively high or low temperatures. Virginia Transformer designs dry type transformers all the way up to 15 MVA, 35 kV class, 150 BIL.
There are many benefits of using dry type transformers. They're very cost-efficient compared to liquid-filled transformers, for a number of reasons. They can be located closer to the electrical load, reducing cabling costs; they weigh less, which reduces installation costs; they offer less required maintenance and minimal downtime for performing maintenance and inspections. Many times customers are unaware of this low cost alternative to liquid-filled transformers, and therefore fail to benefit from choosing to utilize dry type transformers. For any transformer whose required power rating is 15 MVA or less, customers should always ask if a dry type transformer could be appropriately utilized for their application.
The premier dry type transformer design is the UNICLAD, manufactured exclusively by Virginia Transformer. The UNICLAD design was developed by VT over 20 years ago, and is still unmatched technology in the industry. UNICLAD coils are completely sealed with a 220oC-rated flexible polyester varnish applied under vacuum and pressure. This tough, flexible cladding material is highly chemical- and moisture-resistant. Unlike common cast coil transformers, which are prone to coil cracking and failure over time, UNICLAD coils, utilizing Dupont NOMEX, are uniquely able to withstand thermal cycling, short circuit sresses, and operating core vibration forces, without cracking. The UNICLAD offers significant improvements in thermal rating, overload capability, seal integrity, short circuit withstand strength, and overall transformer performance during the life of the transformer. (To see a detailed analysis of all the advantages UNICLAD offers over common cast coil design, CLICK HERE.) Virginia Transformer backs its superior technology with an impressive 3-year warranty, up to six times longer than warranties usually offered on cast coil resin transformers.
Dry type transformers offer a lower cost, high efficiency alternative to liquid-filled transformers in many applications, and Virginia Transformer offers the highest efficiency dry type transformers made, always custom designed to fit your exact needs and delivered with the shortest lead times in the industry. For more information, contact Virginia Transformer directly, or request further information through their web site.
Founded in 1971, Virginia Transformer has grown to become one of the largest power transformer manufacturers headquartere in the U.S. VT custom designs transformers for every market and application – from Utilities, Commercial&Industrial, Renewable Energy, Marine/Offshore projects, and many others. The company has three North American manufacturing plants which serve an extensive international customer base.
###