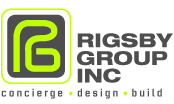 Delafield, Wisconsin (PRWEB) November 01, 2011
Newly-launched Wisconsin home construction and design firm, Rigsby Group, Inc. aims to turn the residential construction industry on its head. In their client-centric model, architect and builder work in tandem with the client from the outset, ensuring top-notch communication, maximum attention to detail, and a holistic approach to design and construction.
Founded by construction manager-husband and architect-wife team, Tim and Nancy Rigsby, Rigsby Group offers their clients over 39 years of combined experience and a unique, detail-oriented approach to custom home design and construction. By combining Design and Build into one firm, they create an efficient, close-knit working environment and committed, mindful communication between partners and client from start to finish. The approach ensures that clients receive the highest quality for the best value, plus extremely accurate budgeting and management, keeping projects on schedule and within the original quoted scope.
Rigsby Group has dubbed this open, collaborative system between client, architect, and builder their Concierge-Design-Build approach. Along with their Open Book Pricing and proven R6-Process™, the system generates increased competence, trust, and efficiencies all the way through the project-- alignment with client budgets, builder and architect in sync from concept to completion, enhanced emphasis on detail, greater cost savings, and flexibility to bring in the right designers and finishers to the project, to name just a few. For Rigsby Group, trustworthiness is an inherent and crucial element in their business relationships.
Rigsby Group specializes in new home construction, custom renovations and remodels, green and sustainable building, and Smart 4C technology. Learn more or sign up for a free consultation at http://www.rigsbygroupinc.com.
Rigsby Group Inc's new website was built by Portland, OR company SightWorks, Inc and powered by their Digital Marketing Studio(TM) platform. Since 1997 SightWorks has been helping businesses realize their digital marketing goals through award-winning web design, intuitive and innovative web, mobile, and social applications, dynamic e-commerce solutions, and individualized internet strategy. Clients include Adidas, Ronald McDonald House Charities, Cisco, General Electric, Hungry Man TV, and Providence Health Care Systems.
###