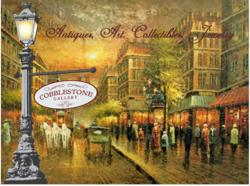 I think men who have a pierced ear are better prepared for marriage. They've experienced pain & bought jewelry. ---- Rita Rudner
San Francisco, CA (PRWEB) November 22, 2011
Cobblestone Gallery utilizes the power of Facebook to shop. Whether you are looking for art, antiques, vintage and antique jewelry, handcrafted jewelry, today's fashion jewelry or other collectibles, shoppers are now able to utilize the power of Facebook to shop on CobblestoneGallery.com.
Owner David Flores says that "buying online is enhanced using Facebook because users can share comments and pictures between themselves and their friends. So you can choose to 'Like' an item on Facebook or tweet about it on Twitter, or use other social media sites."
Cobblestone Gallery's new features have made shopping for antiques, antique and vintage jewelry and even today's fashion jewelry easier and more personalized.
Please take some time and visit us at http://www.cobblestonegallery.com.
###