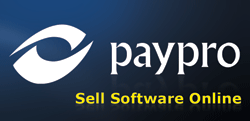 ...we at PayPro Global have introduced our premium shopping experience directly to Facebook users
Toronto, Canada (PRWEB) November 01, 2011
PayPro Global, the leading international eCommerce solutions provider to sell software online, announced today the implementation of full featured Facebook stores. The newest service extends the advertising capabilities of software and digital products vendors by giving possibilities to these groups to create low-cost viral campaigns and build trust among consumers.
Social commerce delivers outstanding results as more and more consumers ignore traditional forms of advertising and are more receptive to friend recommendations. This means new possibilities to advertise the products purchased in such stores through the buyer's friend network, which is proven to be an efficient incentive for the potential customers to make a purchase decision.
According to the latest data, 54 percent of the internet population consists of Facebook users and 70 percent of them reside outside the United States. It is crucial to bring the variety of languages and localized payment methods to these stores in order to capture as many audiences as possible, thus increasing the opportunities for vendors around the world.
"As Facebook's population currently reaches 750 million active users and continues growing, we at PayPro Global have introduced our premium shopping experience directly to Facebook users, as well as the same easy multi-channel store management for vendors," said Matthew Silverman, CEO of PayPro Global. "As eCommerce continues its rapid evolution, we are constantly implementing new features, extending the capabilities of our innovative platform, ensuring that our partners have outstanding results and take full advantage of the most efficient tools and techniques to successfully sell software online," he added.
About PayPro Global
Founded in 2006, PayPro Global, Inc. develops and hosts an eCommerce solution that allows anyone to easily sell software online. PayPro Global supports more than one hundred currencies, all major credit and debit cards, and a wide variety of payment options. The company also offers software developers state-of-the-art licensing, activation, and anti-piracy protection for their applications.
PayPro Global is headquartered in Toronto, Canada, with development centers in Ramat Gan, Israel and Lugansk, Ukraine, and regional offices in Milwaukee, USA, and London, UK.
Website: http://www.payproglobal.com
Contact
Matthew Silverman, CEO PayPro Global, Inc.
Suite 1117
250 The East Mall Toronto,
Ontario
M9B 6L3
Canada
Phone: +1-646-873-6857 (Canada)
###