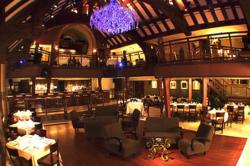 You can actually have a really fabulous party in a fantastic location by choosing a location that gives you the most bang for your buck
New York, NY (PRWEB) November 01, 2011
With the 2011 holiday season just a few weeks away, event planners are gearing up for corporate and small business holiday parties nationwide. But with the U.S. economy still lagging, and companies slashing expenses any way they can, many event planners are changing their strategy when it comes to booking event venues.
According to Alli Hertz, Director of Special Events for Metronome Hospitality Group, a full-service event planning company in New York City, the dynamic of booking holiday venues is changing, and all-inclusive type venues are benefiting the most.
"We're seeing planners who are looking for an all-inclusive venue that is really a one-stop-shop." Hertz says. "There are plenty of great party venues out there, but if it doesn't supply all the 'extras', it can burn a whole through your budget very, very quickly."
Extras like audio/video, lighting, DJs, decorations and food – all things Metronome offers clients at each of their five eclectic party venues: Lexicon (E 54th btw 2/3 Ave), Providence (W 57th btw 8/9 Ave), Crimson (Broadway at 21st St), Triumph Room (W 57th btw 8/9 Ave) in New York City; and Providence at Tropicana in Atlantic City, NJ.
Whether it is a large corporation or a smaller business, almost everyone is looking to cut-back. But a turn-key venue keeps you from skimping on any of the holiday trimmings.
"You can actually have a really fabulous party in a fantastic location by choosing a location that gives you the most bang for your buck," Hertz says. "The bottom line is that when your venue doesn't provide an entire menu of services, your expenses can grow rapidly. From entertainment to decorating for your theme, you have to outsource every aspect, and that waste precious funds. Because we do it all in-house, we're able to save clients quite a bit of money."
About Metronome Hospitality Group
MHG is a Manhattan-based event planner producing turn-key parties, weddings, fundraisers, bar mitzvahs and general events for corporations, organizations, media companies, and beyond. MHG employs over 120 on-site professionals, and offers four great locations in NYC (Lexicon, Providence, Crimson and Triumph Room), as well as another remarkable venue in Atlantic City, the Providence Club AC, in the Tropicana Hotel. Metronome Hospitality Group's mission is simple: to provide outstanding service and atmosphere to every client who entrusts us with planning their event.
###