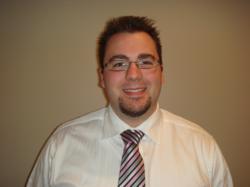 Mentor, OH. (PRWEB) November 01, 2011
Roll-Kraft is pleased to announce that Patrick J. Hopkins has been selected to be a part of the Young Professional Council. This is a group sponsored by the Fabricators & Manufacturers Association (FMA). Their mission is to identify, create, and establish mentoring and networking opportunities to reach potential entrepreneurs, business owners, and those interested in a manufacturing career.
The group provides speakers for manufacturing conferences, local schools, and various other opportunities, to enumerate the advantages and benefits of being involved in the manufacturing community. Often, the group works directly with school guidance counselors to answer questions and challenge America's youth to investigate the field of manufacturing. Their effort is to dispel the old stereotypes of dirty and dangerous factory workplaces, and expose them to the updated, modern factory floor, with automated systems, and clean working conditions. There are many advantages in pursuing a career in manufacturing these days.
Roll-Kraft is a leading producer of tube and pipe tooling and roll forming tooling. With 48 years of manufacturing experience, Roll-Kraft is very dedicated to the efforts of this council.
Roll-Kraft has its headquarters in Mentor, Ohio, and maintains other facilities in Frankfort, Illinois (Roll-Kraft Northern), and Ontario Canada (Roll-Kraft Ltd.). The company phone number is (888) 953-9400 or (440) 205-3100, and the fax number is (440) 205-3110. Please also visit the web site at roll-kraft.com. For easy and immediate contact with Roll-Kraft that transcends time zones and business hours, the website features Dr. Resolve. Simply complete and submit an on-line form and Roll-Kraft will respond.
# # #