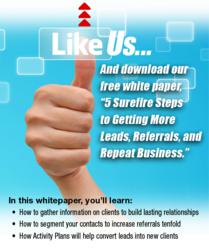 We've created a highly insightful and informative white paper that we know REALTORS® will find helpful in strengthening their relationship marketing skills and growing their business
Toronto, Ontario (PRWEB) November 01, 2011
With social media being a key component to IXACT Contact's marketing and communication strategy, the leading real estate CRM and email marketing firm has launched yet another Facebook promotion. The promotion, which is geared towards prospects but open to everyone, encourages people to become a fan of the company on Facebook to download a free white paper, entitled, 5 Surefire Steps to Getting More Leads, Referrals, and Repeat Business.
IXACT Contact has been generating awareness of this promotion through an email marketing campaign sent to prospects. In addition, buzz and awareness is being created through the IXACT Contact blog and the ActiveRain real estate community, and through social media sites, such as Twitter and LinkedIn.
Prospects have the opportunity to go to IXACT Contact's Facebook page and from that page, click the "like" button and download a free white paper. The white paper, 5 Surefire Steps to Getting More Leads, Referrals, and Repeat Business, shows REALTORS® how to gather information on their clients to build lasting relationships, segment their contacts to increase their referrals, and how Activity Plans will help them convert their leads into new clients.
"We've created a highly insightful and informative white paper that we know REALTORS® will find helpful in strengthening their relationship marketing skills and growing their business. Our new Facebook promotion is a great opportunity for real estate sales professionals to benefit from plenty of great tips and advice completely free of charge," said Matthew Collis, Manager, Sales and Marketing, IXACT Contact.
By liking IXACT Contact on Facebook, not only will fans have the opportunity to download the company's white paper, but will also benefit from insider product news and valuable tips on everything to do with real estate marketing and effective contact management.
"Engaging with our prospects and customers through social media has always been important for us and something we've focused on. This promotion is one more way we can encourage people to join us on Facebook so we can engage with them on that platform over time," commented Rich Gaasenbeek, Vice President, Sales and Marketing.
About IXACT Contact Solutions Inc.
IXACT Contact® is an easy-to-use, web-based real estate CRM system that helps REALTORS® build lasting relationships with past clients, hot prospects and important referral sources. IXACT Contact makes it easy to maintain full contact profiles and to stay in touch with clients in a way that's personalized, relevant and timely. With IXACT Contact, real estate agents can convert more leads into listings and attract more referrals and repeat business. Real estate sales and real estate prospecting becomes easy. Real estate marketing is also a snap with IXACT Contact's personalized mass email, drip marketing, and email campaign reporting features. The Active Business side of the system helps REALTORS® keep control of transactions by managing all the to-do's associated with listings and buyers. Sign up for a free 5-week trial at http://www.ixactcontact.com.
###