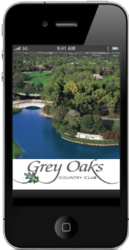 We create unique and rewarding experiences for our members and guests, and this app allows us to achieve that goal
Naples, FL (PRWEB) November 08, 2011
Nationally recognized as one of the top private clubs nationwide, Grey Oaks Country Club has again set itself apart from the rest with the release of their new iPhone and Android app. The app will be used to communicate news and upcoming events, along with many other great features, to their current and prospective members. "The app is going to be a great resource for us to market our amenities to our entire Grey Oaks family," said Jim Butler, General Manager at Grey Oaks Country Club, Naples, FL.
The idea behind the development of the app for Grey Oaks Country Club was to find the most convenient and best source of communication to capitalize on marketing exposure. With that in mind, it made sense to utilize the functionality of the emerging smartphones and applications available. "We create unique and rewarding experiences for our members and guests, and this app allows us to achieve that goal," said Karl Bublitz, Director of Golf at Grey Oaks.
The Grey Oaks Country Club app embraces features such as club news, detailed event information combined with the ability to make reservations for upcoming events, and a slideshow of pictures showcasing the luxurious property. The app also allows members to post their score or make a future tee time reservation after finishing a round of golf using the app-available on course GPS. "I hope all of our members will find the app as useful and user-friendly as I have already found it," said Susan Mullican, Board of Directors Secretary and Member at Grey Oaks.
The app is an addition to the technology-based marketing efforts currently available at the club. Some of the other avenues Grey Oaks uses are e-mail advertising for announcements and upcoming events, an interactive members-only website and their very own private community channel.
The free Grey Oaks Country Club app is available in the iTunes App Store and in the Android Market. Grey Oaks Country Club is on a very short list of clubs to explore this new and innovative technology experience for their membership.
More About Grey Oaks Country Club:
Conveniently located in the heart of Naples, Grey Oaks embodies the finest in country club tradition. Opened in early 1993, Grey Oaks offers a diversity of home styles and incomparable amenities in a breathtaking country club setting overlooking dramatic golf vistas.
Members enjoy playing three challenging championship golf courses - the Pine, the Palm and the Estuary. Other amenities include an 18-hole putting course, two driving ranges, two practice greens, a lagoon-style pool, and a tennis center featuring eight Har-Tru tennis courts.
Grey Oaks Country Club's fabulous array of amenities begins with its social and recreational centerpiece, a 62,000 square-foot main clubhouse that offers a casually elegant setting for fine dining, gracious hospitality, and a full calendar of events, a wine tasting room, men's and ladies' card and locker rooms, and a 2,400 square foot fitness center featuring state of the art equipment. Within The Estuary at Grey Oaks members also enjoy the added comfort and convenience of the nearly 20,000 square-foot Estuary Clubhouse.
We invite you to discover the pleasures and privileges of membership at Grey Oaks Country Club!
###