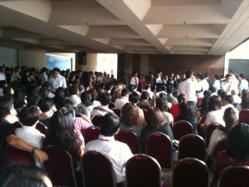 Slow and Steady Win the Race
Singapore (PRWEB) November 23, 2011
Getting a property on the first day of a new launch event can be pretty challenging. Often, the showflat is often packed with people including buyers, buyers relatives and agents. Some are so crowded that it's hard to roam around the showflat in comfort. What are the tips then in getting the best unit at the best price? Check out New Launch Singapore for Latest Updates.
Before any New Launch Singapore Preview, buyers are invited to have a "Private Preview" whereby they will choose their "choice units" from the floor plans. Once the choice units are selected, they will be endorsed on a registration form, often call the "Particulars of Purchasers". This form is only a registration form for the respective buyer to be entitled to be the "VIP" on preview day. This registration often need buyers to submit a cross out cheque that is payable to the project account.
On the day of the VIP preview, it's common for a condominium to be over-subscribed or having different buyers considering the same unit. How do developers allocate which buyer gets which unit? There are often 3 main systems on the first day of launch, namely: (1) First Come First Serve, (2) Balloting and (3) Balloting to Queue.
First Come First Serve, as its name implies, will be on a first come, first serve basis. Whichever buyers that queue up at the booking counter once the booking counter opens will get the unit. Depending on demand, the agents have to queue up on behalf of their respective buyers. Sometimes they even have to queue up 2-3 days ahead.
In the event that different buyers select the same unit, Balloting will be activated. Each buyer will be tagged with a number and the developer will have to choose one number in a "lucky draw" manner to determine which buyer will get the unit.
Balloting to Queue is a combination of First Come First Serve and Balloting. It is often applied to big projects with more than 100 units. Buyers who submitted their cheque in advance will be tagged a number. This number will then be placed into a box where a representative will ballot the numbers in a lucky draw manner. Once the number is selected, the corresponding buyer's name will be called. This is the only moment where they can go into the showflat. Once inside the showflat, the buying procedure becomes First Come First Serve.
With these 3 systems in place on the first day of a new launch, buyers will realize that a cross cheque is often required in advance. This cross cheque determines the "VIP Guest," which puts buyers in from of other guests who are not ready. When the price is released to the buyers to the time they need to commit the unit, there is only little time buffer, typically from five minutes to two hours.
In order for respective buyers to get their choice unit at the best price in the limited time frame, buyers are advised to do their property "homework," which includes doing their bank in-principle approval and also going through the floor plans to pre-choose their choice unit. It is important for buyers to be aware and be posted on the latest Singapore Property updates which can be found on http://www.NewLaunchSingapore.com
###