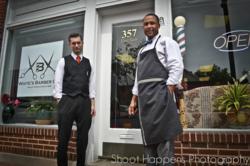 If you don't have time to come to the shop, then we will come to you, home or office.
Laurel, MD (PRWEB) November 09, 2011
White's Barber Co.'s mission is to provide quality service in a family friendly environment. WBC is introducing a new Mobile Unit to service customers on the run and will now service youth community groups and Assisted living Communities at a discounted rate for the holiday season.
White's Barber Co. provides convenient, professional service by identifying and fulfilling client's individual needs. We take great pride in being able to provide an assortment of services to a very diverse client base. All are welcome to a hair cut, shampoo, beauty service or a Hot Lather Shave. White's Barber Co. are equally committed to providing a work environment that fosters learning, opportunities for growth and the maximizing of one's full potential. Aspiring professional barbers and stylists looking for a bright future will feel right at home at White's Barber Co.
Take on the day with a fresh hair cut or a revitalizing Hot Lather Shave. The services at White's Barber Co are convenient by offering early bird hours for clients who like to get a head start. A unique mobile "delivery" service where a White's Barber Co. barber will come to the needs of any client. These are just a few things White's barber Co do to add value for clients.
Having a clean family friendly environment ensures the quality and stability of welcoming in WBC's clients. Services will be conducted by or under the supervision of a skilled WBC professional who embraces an "old school philosophy." WBC's shop reflects the respect for an era when things were done right the first time. Communication is the key to White's Barber Co. giving the costumer what they want. "Ask twice verify twice" is the policy to insure costumer satisfaction. The shop, tools and instruments will be kept clean and sanitized according to industry standards.
WBC has a wide selection of books available. Guests will be able to enjoy a good book while waiting for their hair service or classic Hot Lather Shave.
WBC's mobile delivery service is now open and available for clients who are unable to make it into the shop . Services to senior groups, and assisted living facilities on-site. Group discounted rates are available for parties, teams, senior communities, and boy scouts etc. In addition the WBC mobile unit is on the way.
Contact us at:
301.498.1587
whitebarberco(at)gmail(dot)com
Visit us at:
White's Barber Co.
357 Main St. East Suite
Laurel, Md 20708
http://www.facebook.com/whitesbarberco
###