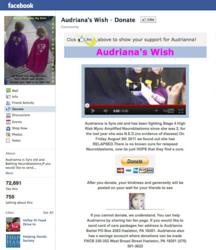 We should all strive to help improve lives in addition to bottom lines
San Francisco, CA (PRWEB) November 01, 2011
San Francisco based social media agency, FanPage Automatic is bending the rules of social media marketing using their "get more fans and give back to society" approach with 10% of all company profits being donated to help charities and non-profits.
"Beyond helping small businesses with their social media marketing efforts, we thought it was about time that someone activated social sharing to promote fundraising efforts for needy children and worthy charitable causes. We should all strive to help improve lives in addition to bottom lines," Bryce Anderson, CEO, FanPage Automatic.
The company's donation tools and Facebook Page support for children with life-threatening illnesses like "Audriana's Wish" have quickly amassed 70,000 Facebook fans while securing generous donations from around the world.
Continuing with their non-traditional "give back" approach to business, Fanpage Automatic provides free training videos that walk new users through every step of the Facebook Page setup process. For companies that don't embrace the DIY culture and would prefer to outsource their entire Facebook marketing efforts – FanPage Automatic has them covered too and offers a complete "hands-off" Facebook Page management solution for a modest monthly fee.
According to Forrester Research, the average value of a fan on Facebook is $136.38 and their brand loyalty is 28 percent greater than non-fans. "We created Fanpage Automatic to help both businesses and nonprofits to better understand and ultimately use the power and reach of Facebook to drive sales, donations, awareness and positive change," said Anderson.
About
FanPage Automatic is a social media agency based in San Francisco that specializes in building professional Facebook Pages that get more fans and give back. Catering to both businesses and charitable organizations, FanPage Automatic has made it their mission to offer Facebook marketing solutions tailored to every budget.
###