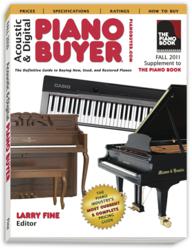 As a result of recession, globalization, and advances in technology, extraordinary values in pianos and digital pianos are available this holiday season.
Jamaica Plain, MA (PRWEB) November 21, 2011
Piano Buyer, a semiannual publication devoted to the purchase of new, used, and restored pianos and digital pianos, announces buying tips for the holiday season. The complimentary publication, in its third year online and in print, provides articles and tools for the savvy piano buyer.
According to publisher Larry Fine, globalization and the computerization of manufacturing have, over the past decade, resulted in drastic price reductions and major quality improvements in low- and midrange acoustic pianos. Fine gives details in the Piano Buyer article "The New-Piano Market Today." This article also includes brand ratings, updated semiannually, that show how the various brands compare to each other in price and quality.
At the same time, Fine says, improvements in technology and computing power have created digital pianos whose sound and touch rival those of many midrange acoustic pianos, usually at a lower price. Many also include such features as learn-to-play software, or allow the player to sound like a music combo or an entire orchestra, or compose and do music notation right from the keyboard. Piano Buyer has several articles and databases to help shoppers understand and sort through the digital piano features and specifications, which at times can be complicated.
"Best of all," Fine says, "prices are extremely reasonable. Dealers have been hit hard by the current recession and are willing to negotiate. This holiday season may be one of the best times in recent memory to buy an instrument. Piano Buyer's model-and-price listings will guide shoppers with suggested maximum prices so they don't pay too much."
In addition to buying advice, Fine points out the intrinsic value of having a piano in the home. "In bad economic times, people are especially concerned that their money stretch as far as possible. With only modest upkeep, a piano lasts for generations, and the gift of music, especially to a child, lasts a lifetime. It's hard to imagine a better value for the money," says Fine, whose 280-page magazine, along with its website, PianoBuyer.com, hosts articles, brand ratings, price databases, and other tools to make buying a piano easier and more enjoyable.
"The choices available to today's piano shopper are staggering compared to those of past generations," adds Fine, author of the best-selling reference, The Piano Book, first published in 1987. "At Piano Buyer, we work hard to guide consumers through the maze of possibilities and help them find the instrument that best fits their needs and resources—from how to figure the value of a used or restored piano, to new products in the new-piano market, to new technologies among digital, hybrid, and electronic player pianos.
Piano Buyer is a semiannual publication devoted to the purchase of new, used, and restored pianos and digital pianos. Available free online at http://www.PianoBuyer.com, it can also be purchased in print, in color on glossy paper, from the website, and in bookstores. Distributed by IPG. ISBN 9781929145324. List Price: $24.95.
###