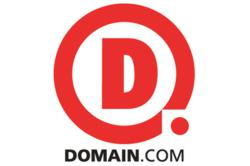 Vancouver, Wash. (PRWEB) November 01, 2011
What's better than winning free domains? How about winning free domains and a $500 Apple® gift card? Starting today, Domain.com, a leading domain name and web hosting company, will begin the Domain.com Decoder Contest.
From now until November 9, Domain.com will post daily scrambled messages on the @domaindotcom Twitter page. Each day, the first thirty followers who successfully decode the message and reply back are automatically entered to win one of five free domains. The winner of the grand prize, a $500 Apple® Gift Card, will be announced at the end of the contest.
"We wanted to invite people who haven't considered starting their own website to have an opportunity to win free domain names," said David Andrews, Domain Name Marketing Director for Domain.com.
Every day a coded message will be posted at a different time. Every day the decoded message will be different. To enter, followers must tweet the correct decoded message and include the hashtag #d3cod3r. Follow @domaindotcom on Twitter for your chance to win.
For more information on Domain.com's Decoder Contest, please visit http://www.domain.com/decoder.
About Domain.com
Helping entrepreneurs become successful online since 2000, Domain.com offers high quality, reliable Web hosting and domain name registration services at the most affordable prices in the industry. Domain.com's full range of solutions to create and market websites includes Web hosting, VPS hosting, Email, SSL certificates, website design, and email marketing. For more information visit: http://www.domain.com.
###